21st January
I feel I've been in a nasty game of snakes and ladders.  I'm writing about my exceedingly tedious health problems.
We are told the NHS is in crisis.  As a heart patient I have been seen and treated immediately by a terrific team both at Ipswich and Papworth Hospitals.
I slid down a particularly long snake and ended up having my pace maker removed, due to infection, at the immaculate Papworth Hospital in November.
"You could be in for up to six weeks" was a false alarm.  I am fortunate that the pace maker wires had not had time to become deeply imbedded.  Consultant Cardiologist Patrick Heck extracted the pace maker, wires n all, in a fairly lengthy procedure under general anaesthetic.  I'm led to understand that it is a procedure that can go wrong and an open heart surgery team are on stand by … just in case!
I was then monitored for several days, bloods were taken and confirmed the infection had cleared.  The Cardiologists Paul Venables, Patrick Heck and Greg Mellor felt my heart was working well.  They were uncertain if I needed another pace maker but in the end took the decision that I should have one as a precaution.
I was discharged on the 16th November with a chest that looked and felt like a patchwork quilt.  The new, more simple pace maker, was implanted on the right hand side of my chest.  I was taken off the beta blockers and blood pressure medication.  A big relief.
For six weeks I did not lift my arms above shoulder height, or lift anything heavy, after the new pace maker implantation and I was given the go ahead to slowly get back to normal after Christmas.
I started to slowly climb, what I thought was going to be, a pretty tall ladder when I started gently using our cross trainer for a few minutes every day.  I promptly slid back down a hideous snake on Wednesday when I had chest pains an hour after exercise.  Sally took me straight to A&E at Ipswich Hospital.
We passed striking Nurses at the entrance to Ipswich Hospital (they have been treated very very badly for far too long), which did not bode well for being seen quickly, but again, heads up to the NHS at Ipswich Hospital, … I was seen immediately.  ECGs, blood tests and a thorough exam from the duty medical officer showed nothing untoward.  And nurses were on duty together with a final year medical student from Cambridge!
Unprompted, my GP telephoned the following day and asked to see me the same day.  The physiologists at Ipswich Hospital have downloaded the last weeks activity from my pace maker.  I'm pretty sure I will have an appointment at Ipswich Hospital pretty soon.  The GP practice said carry on exercising and the Physiologist said wait until the Consultant has been updated with all the results.  I've gone with the Physiologist!  I am being very well looked after by the NHS.
Apart from Wednesday morning I've been feeling, touch wood, pretty good!
On a more positive note my chum Dave Buchan is recovering very well from a stroke.
I told you health is a boring subject!
My plans to sail towards Faroe and hopefully Iceland, this year, are temporarily on hold and I sadly did not sail in November and December.
I am still, however, hopeful of sailing to high latitudes this year.
Doc and James R helped me take my sails off the boat.  The sails were packed up and sent to Kemp in Wareham, Dorset.
Peter Buchan helped me with an oil and filter change and we discovered a small leak on the primary fuel filter.  I was pleased not to be guilty of doing the last fuel filter change.  Peter has plans for a simpler replacement.
Jonny from Evolution Rigging, who are under the banner of OneSails East at Suffolk Yacht Harbour, carried out a thorough mast up rig check.  I have not felt like going up the mast of late, but there is always an awful lot to check at deck level too.  And on't forget your guard wires and stanchions too!  I'm replacing webbing jack stays and a small amount of running rigging.  Jonny and Sam, Evolution Rigging, played a big part with the new rig in 2015.
Peter will help me winterise the engine next week.
'Talisker 1' was immaculately hauled out of the water at Suffolk Yacht Harbour.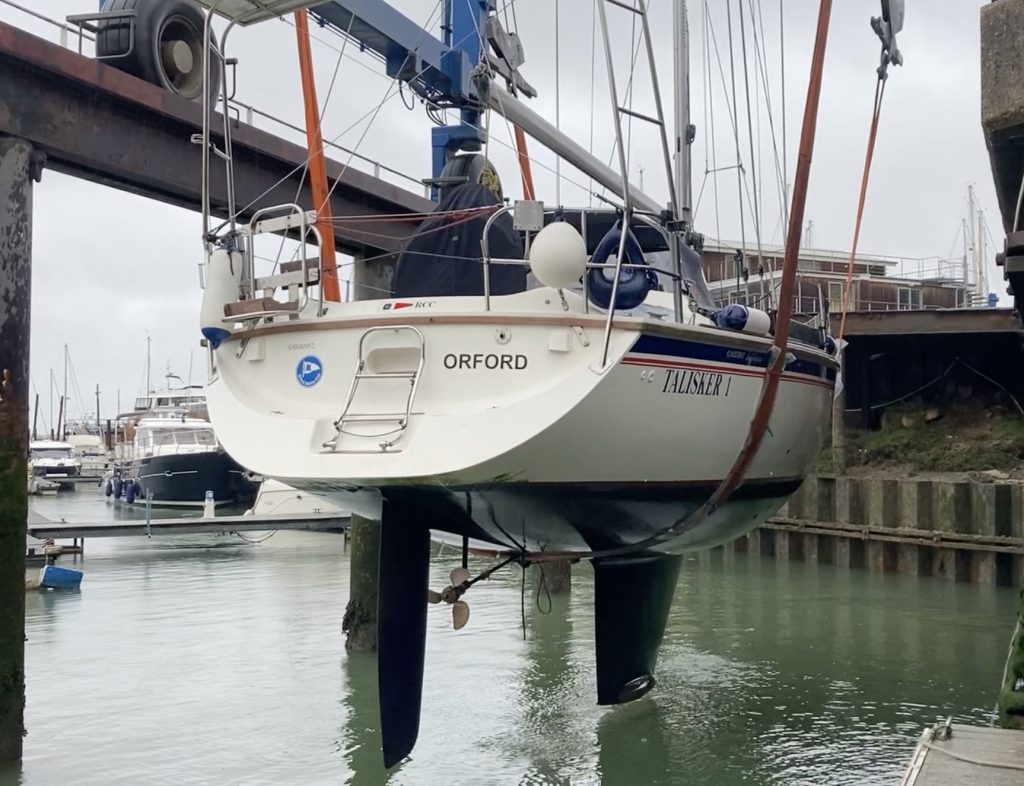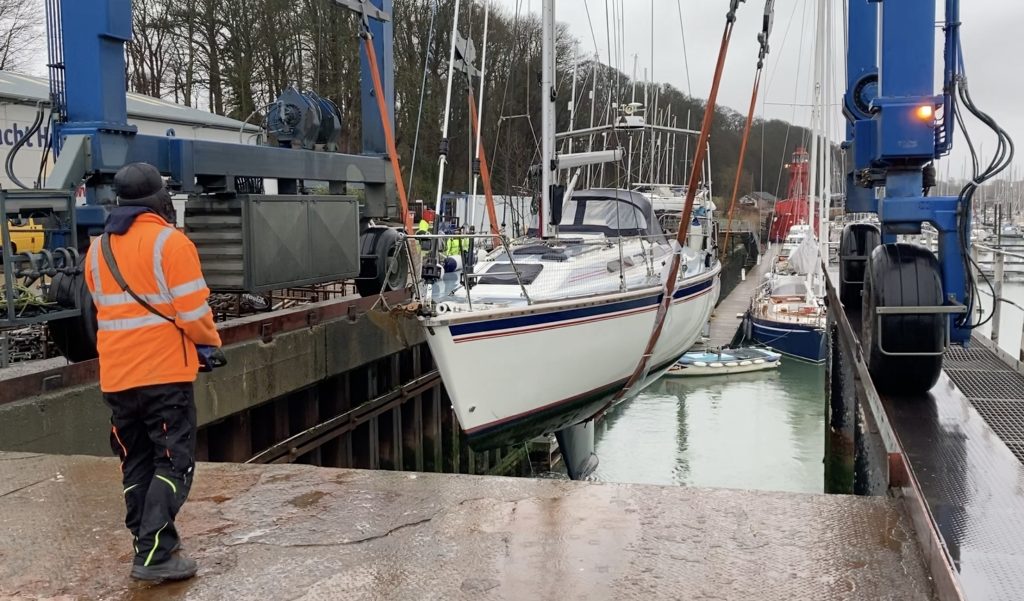 On Thursday I saw my Liferaft inflated for its service at Suffolk Marine Safety.  I feel it is very important to know ones Liferaft and Marc gave me a masterclass.  It is not the first time I've seen my Liferaft serviced.
I'm in touch with marvellous Marlene Cleyndert at PredictWind.  I'm hoping my Iridium Go will be up and running from mid April.
In the mean time … winter maintenance will continue at a leisurely pace … shortly.  But not in this current cold snap!!