27th & 28th October 2013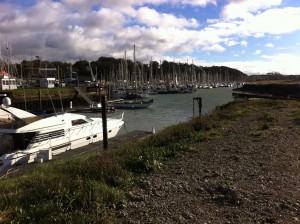 It was still blowing hard on the morning of the 28th.
The flogging sail in the foreground is a 41′ Dehler appallingly moored next to 'Undina'.  The sail will have been written off.
The day before I had doubled up mooring lines on 'Samingo ll', Bill's Starlight 'Livia' (he was away) and 'Undina'.  They were absolutely secure with no damage whatsoever.  Several other yachts were making the same preparations with me on the 27th!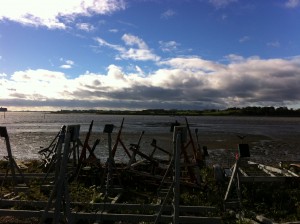 Enlarge the photo above and find the three yachts on their moorings centre picture.  Just to the left of the moored yachts there is a sailing vessel aground on the far side of the river.  She probably dragged her mooring.