19th January 2017
James and brother Oliver, Suffolk Yacht Harbour preparing to guide 'Talisker 1' in to their hoist..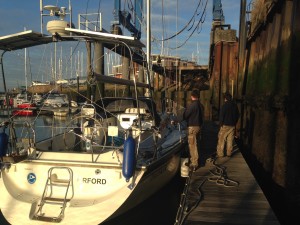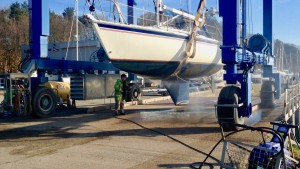 James, Oliver and James, S Y Harbour team, doing a great job and making it look easy.  I've seen clumsy haul outs but not here.
22nd January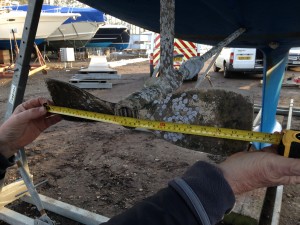 Checking prop dimensions … this egg whisk just did not drive the boat on those days when there was no wind … The trip to Norway last year was blighted by this propeller as we did have to motor occasionally!!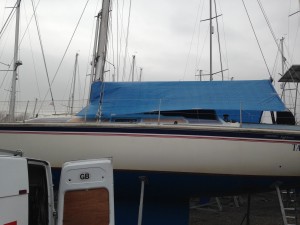 Four windows out … to be reseated.  Suffolk YH's Simon (round the world yachtsman) and the Doc, helped me to remove them!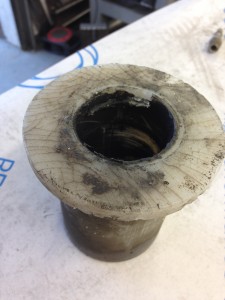 The top rudder bush removed.  This came out in 2016 half way between Shetland and Bergen.  Not a great moment.  Thanks to Nigel Higgs, owner of Typhoon 'Nessa V' of Poole who gave me all the correct information to have a new one turned!  A new bush is being made from UHMW PE (ultra high molecular weight polyethylene).  Note the o ring inside the bush.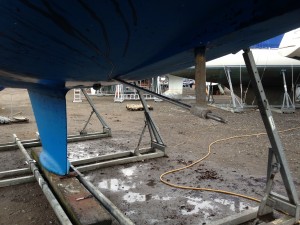 Prop removed …
1st March
Both these guys are perfectionists.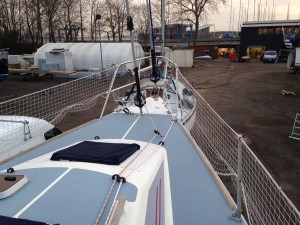 No more hanking on the Stay Sail.  The crew are getting older.  Both furling lines lead back across the top of the coach roof which is ideal.  I got exactly what I wanted.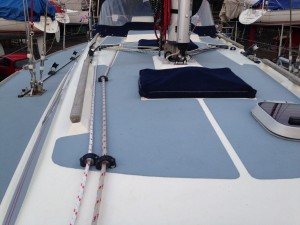 Job well done and an extra jammer needed and installed.
3rd March
The propeller is designed for the maximum power of 28hp developed at 3200 rpm for our Volvo 2003. Using the 3 .02:1 reduction ratio David recommended using an 18 X 15  3 blade.  David is a very good guy to deal with.  Quality product.  I wanted maximum drive forward and minimum drag.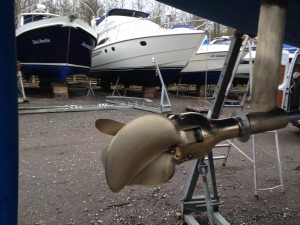 11th March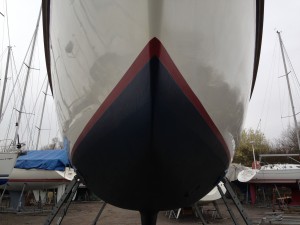 Anti Fouling complete. Topsides polished.