14th September
15th September
Going to find the Doc and 'Tuesday' in Pyefleet so a sail down to the Colne against a spring tide..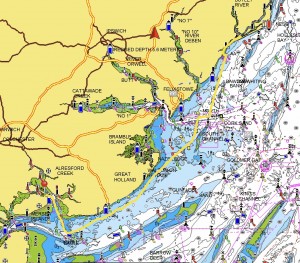 And anchoring with 'Tuesday' in Pyefleet
16th September
With threatening weather for the 17th both boats decided to get back to Harwich as we needed to be home on Sunday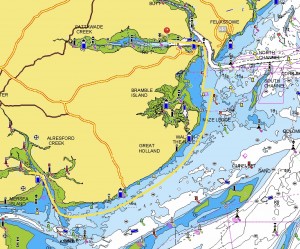 Strengthening NW winds for a sail to The Stour
Rounding the Naze 'Talisker 1' with 2 reefs & her stay sail beat in to Harwich Harbour in strong winds and blinding spray
'Tuesday's' main sail, a veteran of 39,000 miles including 15,000 Ocean miles, Tropical sun and sailing in the Arctic finally gave way at the lower batten.
17th September
A day at anchor in the Stour
I was able to help The Doc for once.  I rowed over in the dinghy and helped put the sail back together.  We did not stab each other with the needle once!  Six hours and the job was done ..
18th September
Both boats returned to Orford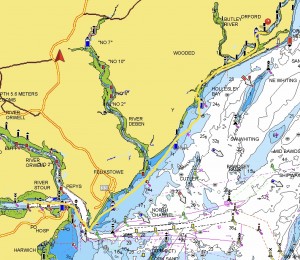 Level with the lower batten a black strip of seat belt material has repaired the leech.  The seam along the lower batten as well as some tears had to be repaired.  'Tuesday's' new suit of sails have already been manufactured by Rob Kemp ready for next season.  A testament to Kemp Sails for the longevity of these sails manufactured 39,000 NM ago.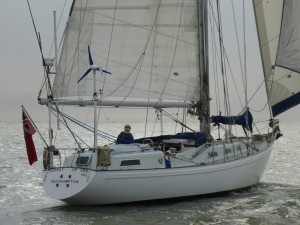 And inside Andrews Spit and along the beach.  You can almost reach out and touch the Languard Beacon in passing… no more than a boat length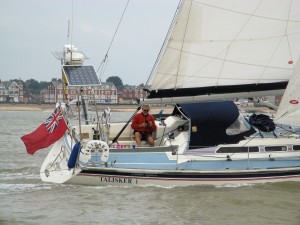 My favourite sailing view!  Coming in to the moorings at Orford nearing the top of the tide with the castle and church bathed in sunshine.