There was lots to do this winter after a very busy 2014 summer getting to know the boat a little.
Lots of help from the professionals … all highly recommended.
I sadly did not winter at Larkman's Ltd due to stainless steel work but they were as supportive as ever.
www.larkmansboatyard.co.uk
00 44 (0)1394 382943
Mr Stainless did quite a bit of work including the new gantry for the solar panels and binnacle.  Ed did most of the work.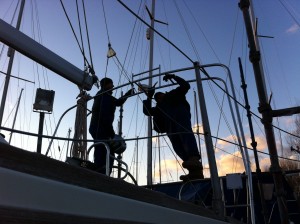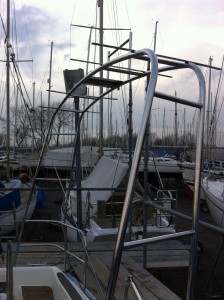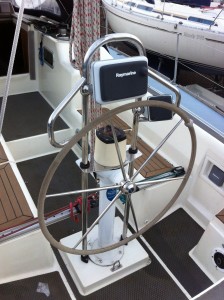 www.mrstainless.co.uk
00 44 (0)1473 659295
Olly Banham Seapower Marine Ltd did an outstanding overhaul of 'Talisker's' electrical systems and steering gear.
Olly was involved in the design of the new binnacle and gantry and worked closely with Mr Stainless.  He chose and installed 2 x 130W solar panels and regulator, moving all the other existing antennae etc to the gantry also installing a new stern light.  Olly installed new pods for the auto helm control and chart plotter.
The old switch panels were replaced with custom made labelled switch panels.  New battery switches and an additional engine battery and battery monitor were installed.  Olly was constantly rewiring over and above wherever he saw necessary and there was lots of it. The mains battery charger was replaced with a TBS 12V40A unit and fused appropriately.
New led bicolour.
The steering system was completely overhauled and bearings and brake were replaced.  Olly replaced the autohelm completely with a Raymarine EV-200 Type 1 and checked the exisitng one.  It will now be possible to swap quickly from one to the other in the event of failure.  A simple switch operates either the old (fully inspected) or new control panel.  Clever of him and well thought out.
There is a flush new VHF speaker in the cockpit and flush shore inlet plug.
The speed and transducer housing were replaced.
Deck glands at the mast were all replaced together with any old cabling.
Cabling was checked throughout the boat and properly rerouted.
www.seapowermarine.co.uk 
oliver@seapowermarine.co.uk
00 44 (0) 7754 980443
Rig Magic provided advice with regard to a custom inner forestay for a 'stay sail' and a new boom.  The furling gear was also replaced.  The Spinnaker and Genoa halyards now exit at the mast directly on to new clutches with a new winch below to allow for the outhaul and stay sail halyard to be led back to the cockpit.  The Spinnaker downhaul is now controlled by a clutch.  Likewise the Spinaker pole track lines at the mast now have two clutches.  A housing has been installed on the mast to make the pole stable when stowed.
The new boom is a Selden 171 section single line reefing …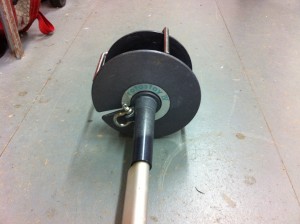 The old furling Rotastay lV gear. No spare parts if a long way from home.  
The new furling gear is Harken MK lV unit 1 furling system.  I liked the open drum!
www.rigmagic.co.uk  
00 44 (0)1473 655089
I spent a day at The London Boat Show with Doc and James Robinson.  Most of it was in the company of Kemp Sails who had provided Doc and 'Tuesday' with sails for their solo trip to South America and back.  Rob Kemp had made me a genoa for 'Samingo 11' on a recommendation from Doc.
Rob and his colleague Matt Atkins patiently listened to my plans and thoughts.  It was great to have Doc and James's input too.
Having listened to me Rob and Matt put me right and I ordered three new sails there and then.  They kindly adapted 'Talisker's' pristine and unused storm jib.  Long may it stay that way.
www.kempsails.com
info@kempsails.com
0044 (0)1929 554308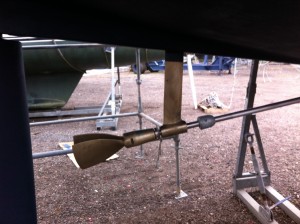 Folding prop, P bracket and cutlass baring all checked.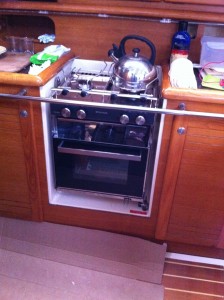 Gas installation completely replaced along with the cooker.  A no 'brainer'.