Undina and the Burnham Lifeboat 18th September 2012
I had been 'Undina's' skipper for about seven weeks when this event took place.  I had been all over the boat pretty thoroughly getting to know her.  There had been a lot of general maintenance.  She had certainly suffered from lack of use.  There were seized sea cocks.  I was worried about the rigging and Rig Magic, Suffolk YH had done a check a few days before this trip.  She leaked of course and I was constantly checking the electric bilge pump and float switch.  The steering had already failed in the River Ore and I had dropped the anchor smartish and fixed what was a basic bit of maintenance that had not been attended to.  The first job I had done on board was to remove the seized pin holding the anchor in place that had taken about five minutes.  Steering failure in any other situation could have been very dangerous.
Despite her incredible beauty my trust in her was not complete.  With another good crew I had already aborted a trip a few weeks before from The Blackwater to The Orwell as the wind got up and my 'waters' just did not feel right!
We were on a passage from Brightlingsea to Chatham with an excellent crew of four and conditions were good.
The previous day we had beat down The Wallett in to a 3, maximum 4 and had spent the night in one of my favourite places, Brightlingsea Harbour.  When we left Brightlingsea that morning 'Undina' just would not come through the wind and flood tide coming in to the creek.  The engine is small for her size.  Eventually the Brightlingsea Harbour Master pushed her bow round with the harbour launch and we were underway.
By 11.25 we were through The Spitway having motor sailed with a reef in the main and small jib hanked on to catch the flood down to the north Kent Coast.
We were not many minutes from switching the engine off as our speed over the ground increased and with The Spitway conquered, James Robinson (the skippers mentor, instructor and confidant in all things sailing and one of the very very best sailors) went below to make coffee.
A few seconds later his face reappeared to tell me that coffee would be delayed as he objected to working in the galley while paddling in water.  The cabin sole was awash by a few inches and Undina has big bilges.
Barry Hitchcock, our oldest crewmember and a veteran Yachtsman took the helm as I went below with the decision already taken to make for The Crouch.  I asked Philip Attwood, our quay warden at Orford, on his first sailing trip ever and a very practical calm man, to manually pump the bilge from the cockpit. 
Lifting the sole at the bottom of the companionway steps, a level of about six inches higher than the galley, there was a lot of water.  The electric bilge pump with a float switch is located a very good arms length below this board.
The immediate thoughts of stern gland, seacock failure, a seam sprung, flashed through my mind and without doubt James's mind too.  Not knowing, I did know the situation COULD deteriorate very quickly indeed
I reached for the radio and called Thames Coastguard on 16.  There is a lady at Thames with a lovely, clear, concise voice and felt rather cheerful hearing her.
From James finding water, to my being asked by Thames to go to routine traffic channel 67, less than a minute had passed.
Thames called back very quickly and I explained that we were a 45' classic sailing yacht on passage from Brightlingsea to Chatham with four on board.  We had just passed The Spitway and were taking on a lot of water.  I explained that we were heading for Burnham and The Crouch.  I requested The Lifeboat with a pump. 
Very soon, Thames confirmed that the Burnham Inshore Lifeboat was being readied and that they would shortly launch WITH a pump.  It is a distance of approximately twelve nm from Burnham YH to The Spitway.
Having again confirmed our position I was told the Life Boat was on its way.
We were trying to make way as gently as possible, now IN to a strong wind and seas and James and myself dumped the jib and lashed it to the guardrail.  Then we went below to monitor the water level that seemed not to be rising unduly.
James told me that, if necessary, the Burnham YH had a travel hoist big enough for Undina's seventeen tons.
Then the Life Boat called to give us an ETA and soon afterwards they were with us.  There were two ladies and two men, all business like and a very reassuring site to us.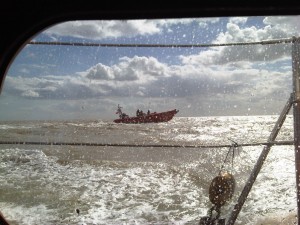 The Burnham inshore Lifeboat arrived very quickly
The Life Boat wanted to put a crew member aboard to assess but I declined.  I was later mildly reprimanded by James as, although he agreed it was not at all necessary, we were depriving them of good training on a real shout.  I felt we were under control and that their presence was the most important thing they could do for us.  I saw no point in a person having to come aboard, all be it with minimal risk, in the circumstances as they were.  James of course was correct.  But I was not completely wrong either!
The crew of the Life Boat looked very happy.  They obviously recognised the famous boat and later told us that we looked properly equipped, relaxed and properly dressed!
The coxswain asked me if we would like them to radio ahead and request the travel hoist.  We did not know what the problem was and I confirmed that this would be very good.  The travel hoist would be ready to go at 1400, which was very roughly our ETA at Burnham YH.
I was asked to reverse 'Undina' up to the fuel bay which is next to the Travel Hoist.  With Undina's characteristics reversing under engine this was a non starter.   The lifeboat said they would lead us right in to the fuel bay.  Warps and fenders starboard side two.
It is quite a distance from The Spitway to Foulness Point.  In the shelter of the land the water became flatter and with the main down and lashed to the boom it was apparent that our pumping was winning and the ship would soon be dry.  It was also clear now that the electric bilge pump was NOT working.  I reported to the Lifeboat that we wanted to remain afloat to assess the situation before any decision was made to lift her out.
The exemplary Life Boat crew led us in to Burnham YH and up to the fuel berth where we were met by Marina staff and two gentlemen from the Burnham RNLI office.
We thanked them for their help and they were quick to kindly point out that we had not put a foot wrong in calling them so quickly and that we had been 'textbook'.
I asked the Marina Staff if we could delay any lift out while we made our own examinations and I went to the Life Boat Station to thank the crew.
I was told I could go in to their changing room and knowing that there were two ladies I was rather apprehensive about upsetting them and hesitated.  I was told they would be very pleased to see me and to go in!  I edged inside with great trepidation trying to work out how I could reassure by word and deed.  One of the ladies was in the shower BUT wearing her full gear including helmet.  The washing of the Lifeboat and gear is when the shout is over for these wonderful people and not before.  All four were very kind to me and again flattering about the way we had handled the situation.  I could not thank them enough.  I went up to the RNLI office to complete the paper work.
It was rather strange the following day that the press contacted 'Undina's' owner  asking him about his 'near drowning incident'!
What to do?  We were safe in Burnham YH and she was dry although she was taking water.  The electric bilge pump was not working and we lifted the whole of the cabin sole with difficulty.
The chandlers had a pump exactly the same but with a much greater capacity.  I installed this immediately and the float switch switched the pump on every seven to ten minutes.  We were under control!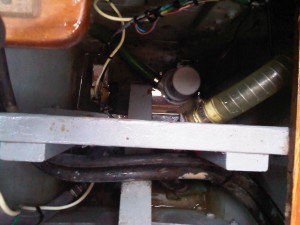 The new pump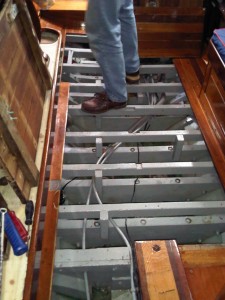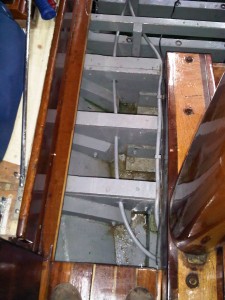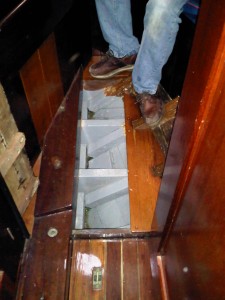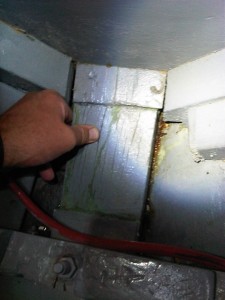 There were various places that looked suspect and one place in particular by the port side chain plates.  Barry suggested that the rigging was very tight.  Rig Magic had adjusted the standing rigging and it was bar tight!  Before their visit it had been quite slack. 
We went in search of advice and who better than Robin Prior, a specialist wooden boat builder.  Robin agreed to visit the boat at the end of the day and here were his conclusions:-
1)  The rigging was far too tight and might have caused her to open up.
2)  Working her to windward would have opened her up quite a lot the previous day coming down The Wallett.
3)  Had the bilge pump worked we would have been none the wiser.
We felt to be reliant on one pump and one float switch was not good enough.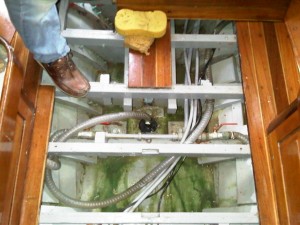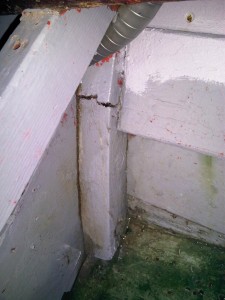 cracked rib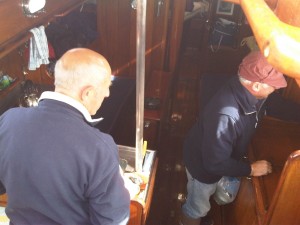 Philip and James below in Burnham YH
There were so many lum holes that I had unblocked already.  We unblocked more and one blocked on the bulkhead between the salloon and the heads was holding back a huge amount of water.
We followed Robin's advice (already spotted by Barry) and took the pressure off the shrouds half a turn at a time off the outers and inners.  It might sound a lot but at least six turns off each.
Over the next 24 hours the float switch slowly began to operate less frequently.
I bought another electric bilge pump that could be connected directly to the battery with crocodile clips.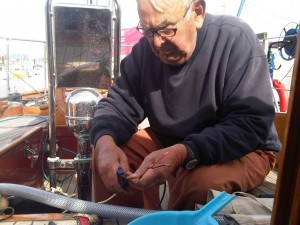 Barry making up our reserve pump with masterly precision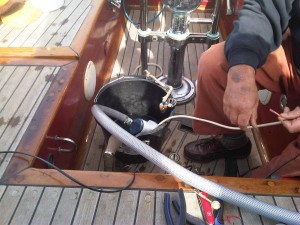 Does it work?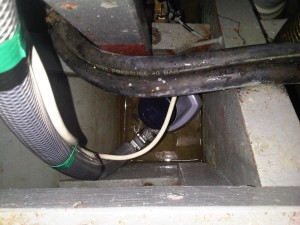 It fits down the hole…!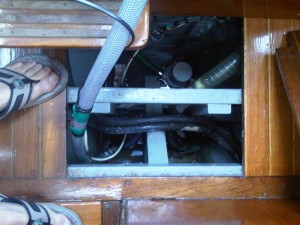 On passage we would have to check the bilges every 30 minutes and now we had a reserve pump too. 
20th September we leave The Crouch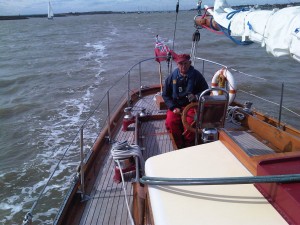 Barry at the helm
We had a couple of days in Burnham before finally leaving The Crouch.  I had a big list of things to resolve not least was the difficulty of prizing up the cabin sole that in an emergency would have meant damage if done without great care and danger if there was a real emergency
My really exemplary crew had to get home.  James had a delivery to do from Bradwell so we moored in Bradwell Marina and he jumped ship.  I had 'Undina' to myself and Sally arrived by car.
A couple of days later with no crew available I motored out in to The Backwater.  I went up to see Osea before motor sailing up to the Orwell for a night at anchor off Shotley.  The following morning 'Undina' was in her berth in Suffolk YH.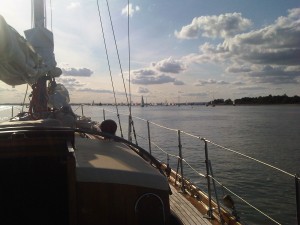 Osea Island