6thJune 2019
Me and 'Talisker 1' arrived in Belgium from Ramsgate yesterday.  I had hoped for the wind to last longer but the forecast was correct and we had to motor sail the last 27 nautical miles.  It was springs yesterday and if we'd continued to sail, it would have been a very long day indeed.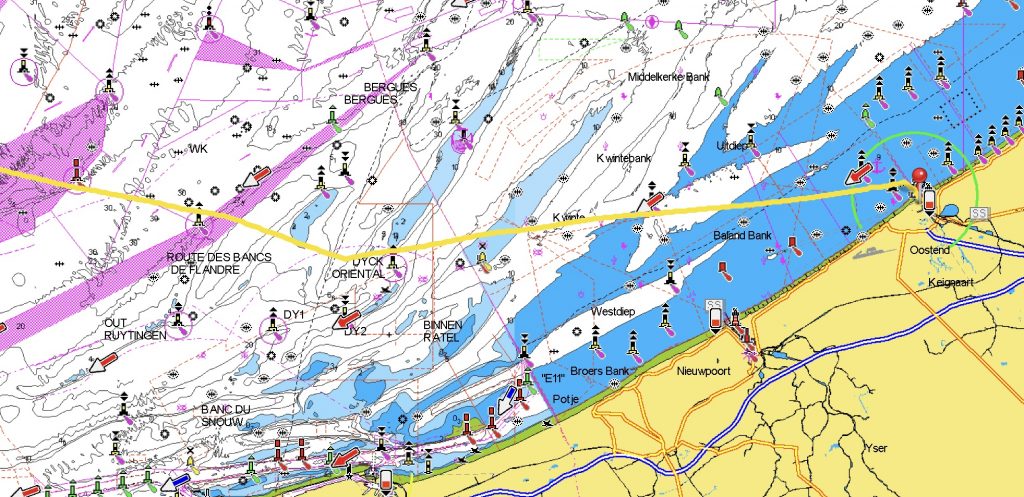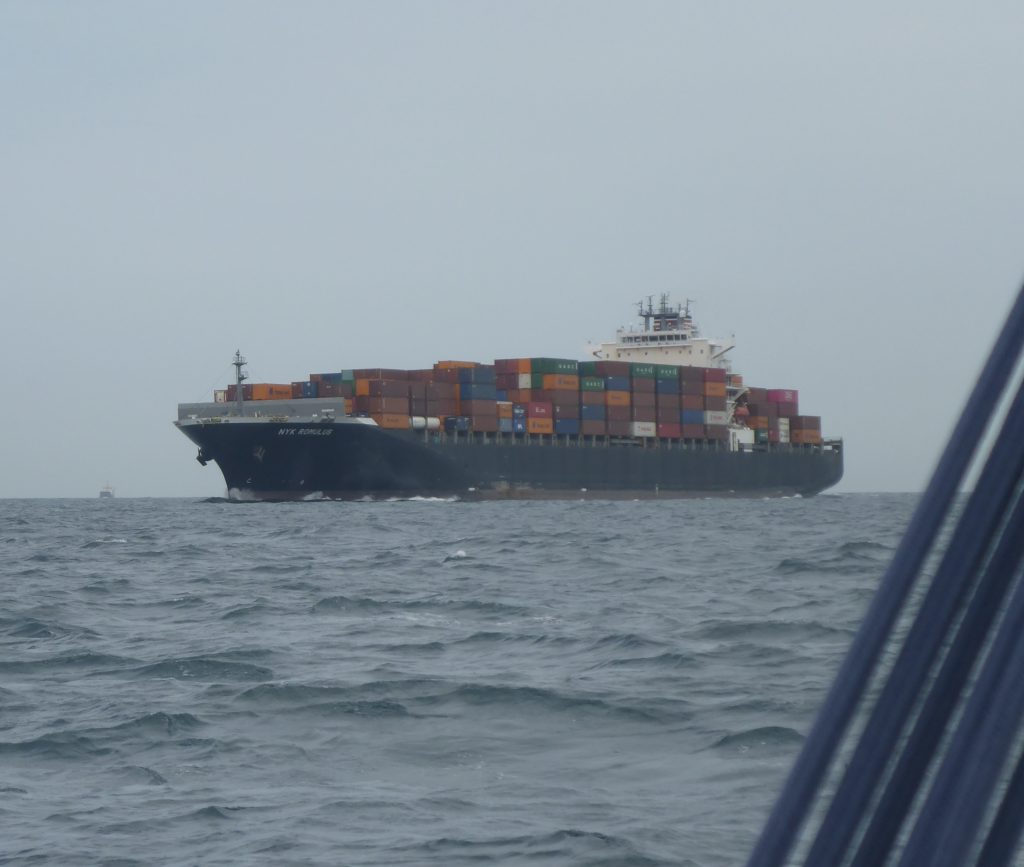 We arrived Oostende Pier Heads at slack water!
Oostende have a new very very visible IPTS (International Port Traffic Signal).  Normally Green green white the signals were Green White Green so I needed to call and I'd forgotten the VHF number for Port Control.  A quick look in Reeds and I called CH27 and was quickly redirected to CH09 and we were given permission to enter the harbour. Yet again the information in Reeds is not clear.
Pieter waved from the pier as we approached to Royal North Sea YC and then jumped on board off the pontoon to help me moor.  It was wonderful to see Pieter and of course great to be back in Oostende which will always hold a special place in my life at sea.
Simon Munters is the Harbour Master  at the RNSYC. The place is like a new pin and Simon is very helpful.  Simon told me that a Schengen form must be filled in and stamped for arrival and for departure.  Quite how this works for departure I'm not sure.  Anyway!  I was given the form, which I've filled in so I'm ready for a visit.
I met Piers Rueb and his friend Simon Wellington briefly in Ramsgate.  We know each other through social media but we've never met.  Piers sails a Sigma 33, 'Graphix' from Suffolk YH. Piers was hoping to get down Channel which was not looking easy with the weather.  Instead they've opted to come and join me and 'Talisker 1' in Oostende and are sailing here today.
I've been testing my shoulder!
When I got back from Grenada in early April I still had six more coats to apply below the waterline on 'Talisker 1'.  The re launch was imminent.  But with good weather I could apply a coat each day.
After the second coat my right shoulder was very sore.  I've always had a troublesome shoulder.  It was so bad on this occasion that I could not lift my arm above shoulder height. Not good when trying to use a painting roller on the under side of a sailing boat.  I now know the injury is called 'repetitive strain'.
I did not cancel the launch. Instead, I took painkillers and finished the job, re launched and then re commissioned my boat.  Thank goodness for the Doc and his Grandson who helped me put the sails back on.
I've got to learn to act my age.
If I'd felt like this last year I might not have made it to Madeira and the Azores.
Having sailed 'Talisker 1' back to her mooring at Orford in mid April I realised the shoulder was bad. The boat did not move for over a month as I battled with the injury and eventually two cortisone injections were necessary.
So the past few days have been the first test of my single handed or should I say single shoulder abilities to cope.  Although it's ached, it has not hurt.
The first passage was on the 1stJune in the company of Doc and 'Tuesday'.
In very light airs 'Talisker 1' and 'Tuesday' sailed from Orford to Pyefleet.  It took most of the day.  It's always a joy to see a boat being sailed perfectly but that's what the Doc does with any sailing vessel, whether it's on a model boat pond, in his Mirror Dinghy, his Orford Ten Footer or his wonderful Rival 41 'Tuesday of Ore'.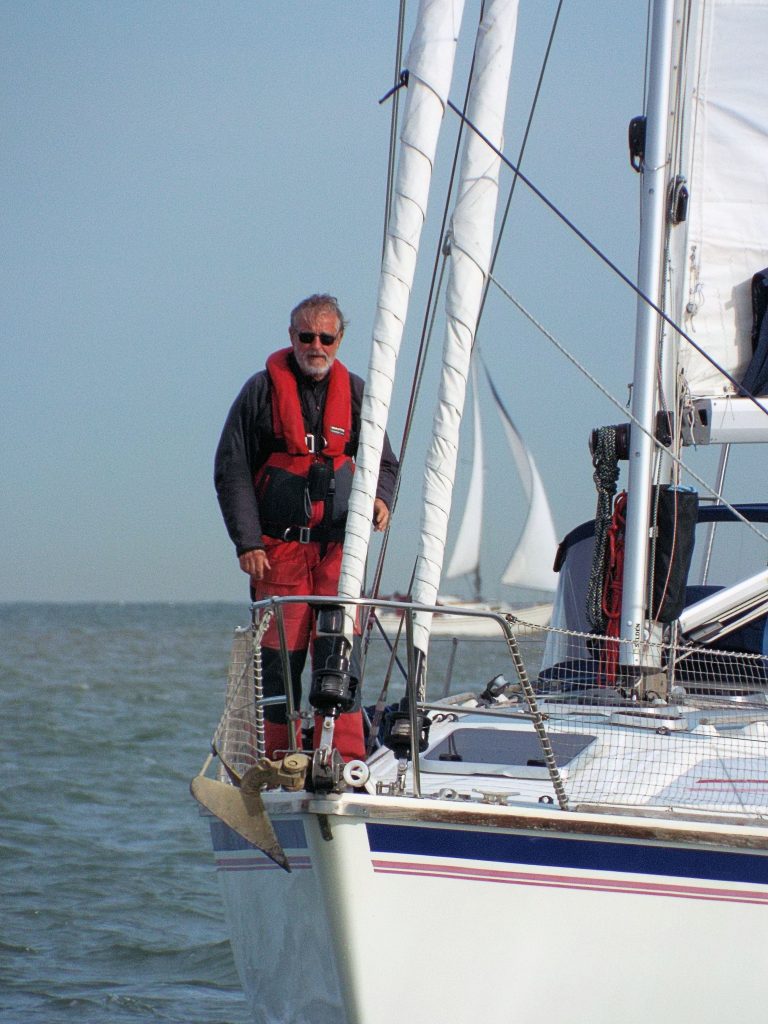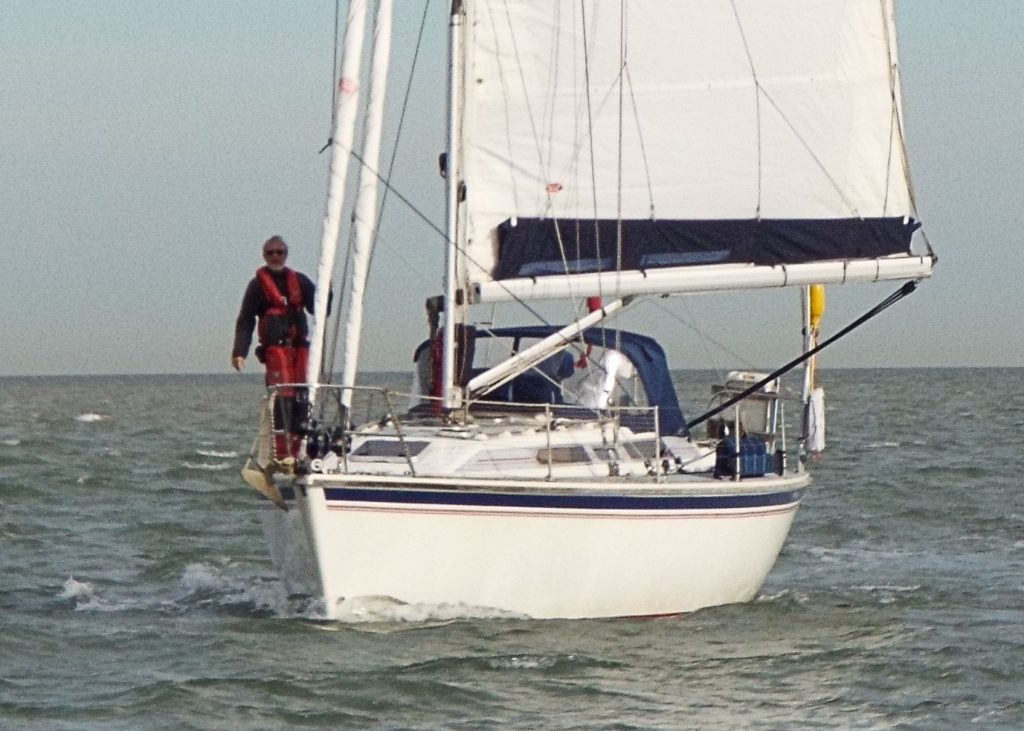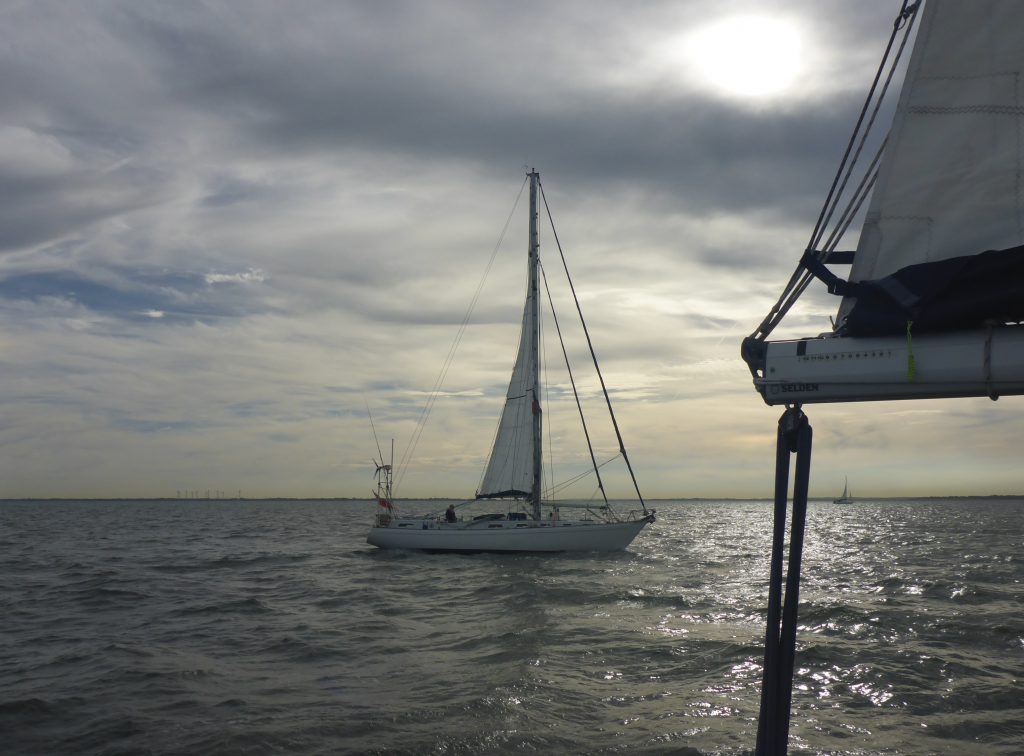 On the 3rdJune me and 'Talisker 1' sailed across the Thames Estuary to Ramsgate in good south westerly winds leaving the Doc to head in to the Crouch.
I ought to count how many times I've sailed across this extraordinary bit of water with its numerous sandbanks and swatchways.  Timing the tidal streams is imperative but in favourable winds it's always fast, always a challenge and a thrilling experience.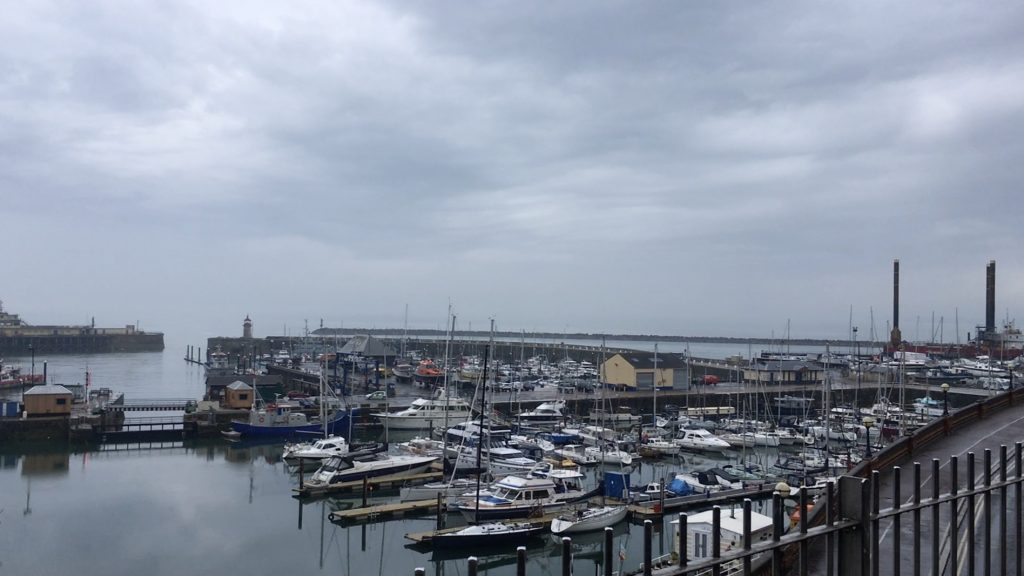 So here we are in Oostende!
12thJune Back in Pyefleet Creek
This morning I left Ramsgate at 0530 and sailed across the Thames Estuary.
The weather has been so variable and volatile.  It was quite windy leaving North Foreland and then variable thereafter before becoming a settled NNE3.  But it rained and rained and rained.  Visibility deteriorated too.  But there was some very good sailing despite the damp.
Anchored in Pyefleet Creek the water is like a mirror.  There are strong winds forecast for tomorrow from the south.  I'm contemplating sailing to the Orwell….
On the 10thJune me and 'Taliskler 1' sailed from Oostende to Dunkerque in the company of 'Graphix' and a Swedish Bavaria 43 'Wynja' being sailed single handed by Bjorn.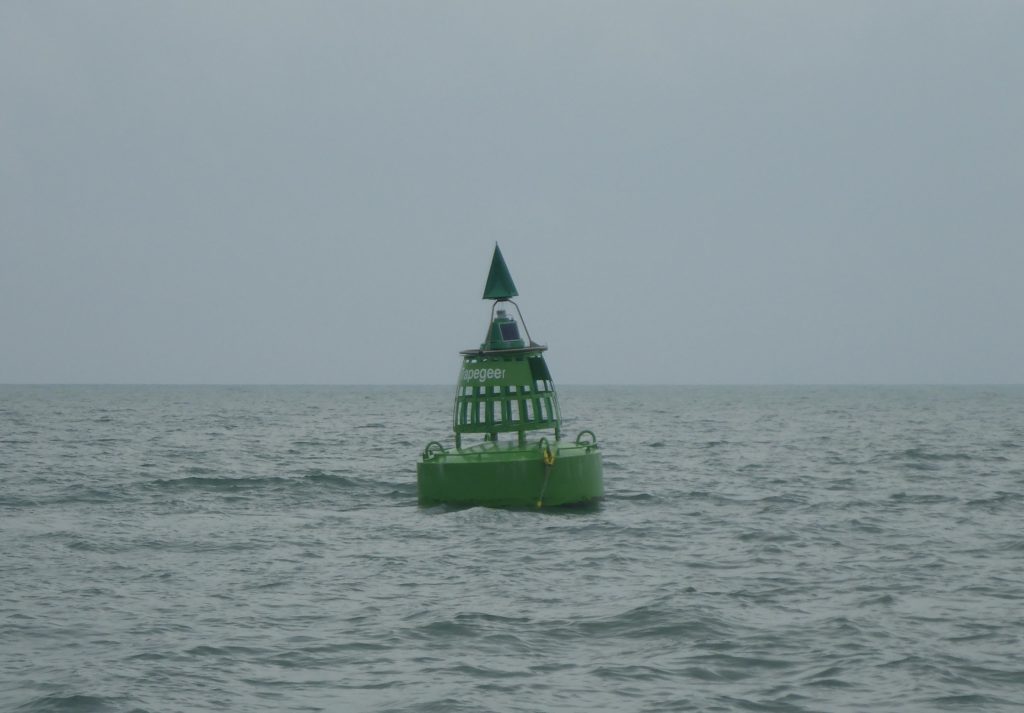 Quite how Bjorn has arrived in Dunkerque after setting sail from Sweden will remain a mystery. Bjorn tells us he bought the boat earlier this year with no sailing experience and set off single-handed.  Bjorn tells us he sailed through the Kiel Canal.  There have been some tricky waters for hime to navigate.  Or does he know more than he pretends to?  Having seen him sail to Dunkerque I don't think so.
The sail to Dunkerque was very wet with just enough wind.  Piers was not happy with his engine so me and 'Talisker 1' waited so we could enter the port together.
Simon, crewing for Piers, is a photographer and a newcomer to sailing and almost the first sail for Simon was a very exciting ride indeed from Ramsgate to Oostende in which they suffered damage to the kicker that was torn from the boom in a crash jibe.  The main sheet did not survive either.  There was a malfunction of the preventer system. The Sigma 33 is a very lively lady indeed and needs reefing early.
I was delighted to be able to rivet the kicker fitting back on to the underside of the boom and lend Piers my spare main sheet until he returns to Suffolk.
Simon seems to take everything in his stride.  Piers is a very good man and like me, a huge reader and observer of all things sailing. He's learning very fast indeed.
It was lovely to catch up with Mieke and Pieter, Anne and Raymond and then Greet and Johan and their son Dries at their charming home near Bruges.
So far my shoulder has stood up! There were terrific winds in Oostende over the weekend.  It was good to be tucked up in the corner of the Royal North Sea YC.
Me and 'Talisker 1' crossed the Straits of Dover from Dunkerque to Ramsgate yesterday in fabulous visibility, blue skies and not a lot of wind.
On a heading of 90 degrees to the TSS's I only had a brief uncertainty with a ship.  When I called them on VHF they had literally just altered course to pass astern of us.
Some other ships also had close CPA's of less than 0.3 and 20 to 30 minutes but monitoring them carefully for a minute of two they all, without exception, made a course change to pass clear of us.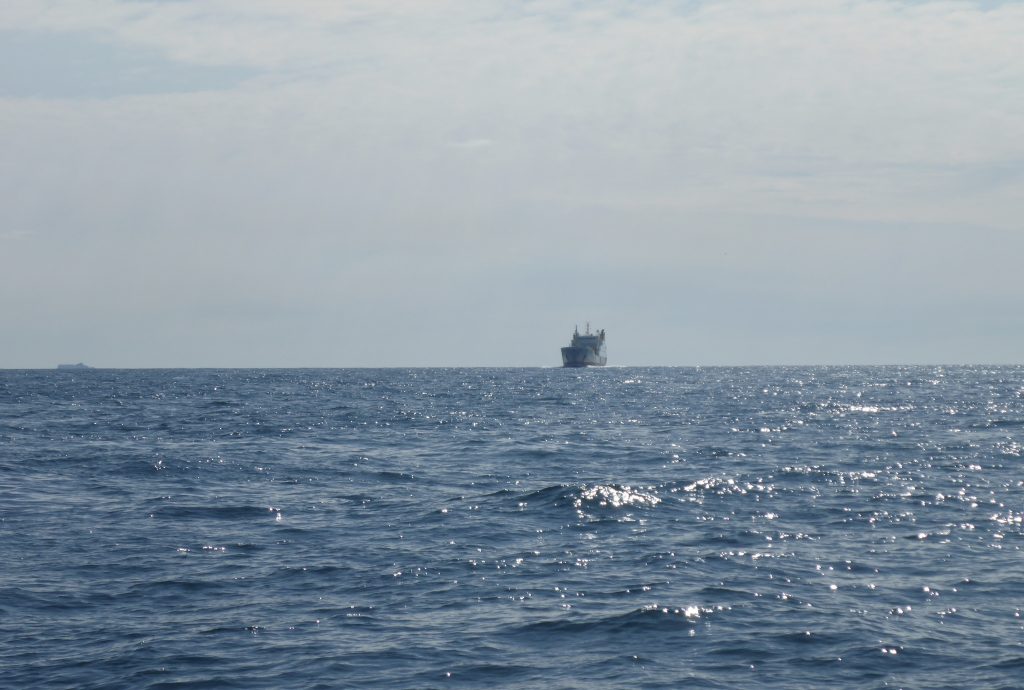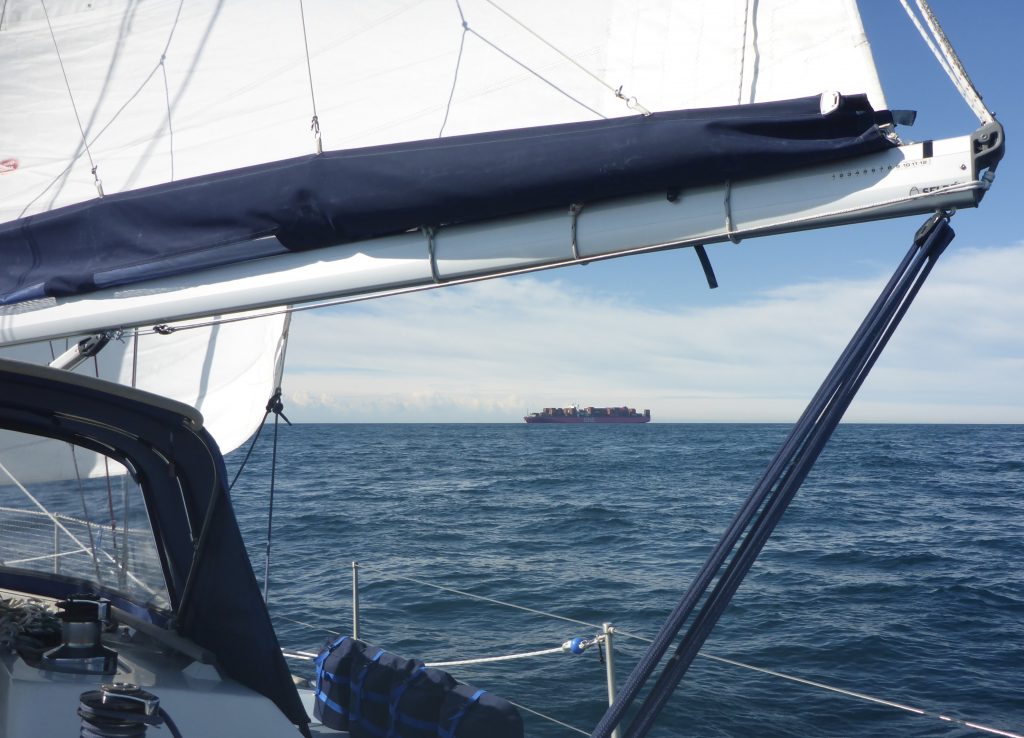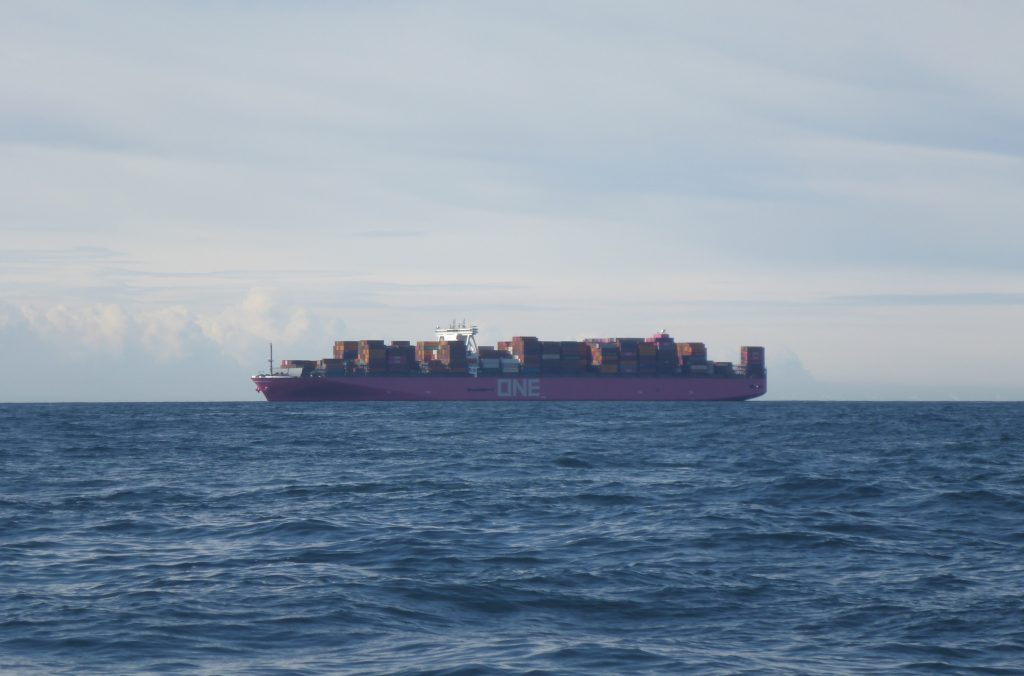 We were under full sail making 4.5 to 5 over the ground.  Our track was taking us west of our 90 degree heading with the south westerly set of the current.
Me n 'Talisker 1' timed it perfectly to round SW Goodwin at slack water to carry the powerful current back up the coast for 10 nautical miles to Ramsgate.
13thJune
There were strong winds today although our anchorage in Pyefleet was well sheltered for the southerlies.
We were underway just before high water Brightlingsea and once out of the lea of Mersey Island the Colne was quite rough as we motored into the weather until we could bear away, set the stay sail only and switch off the engine off Colne Point.  Bang on high water there was more than enough water to east it across the shallows from Inner Bench Head before sailing up the Wallet.
As expected the winds were at their strongest after rounding Walton on the Naze and then coming in to Harwich.
Two tugs were skilfully mooring a container ship with powerful winds blowing the ship on to the dock.  The two tugs and the ship gently executed the manoeuvre perfectly.
We found shelter under the trees just below Buttermans Bay and Pin Mill where we are now anchored for the night.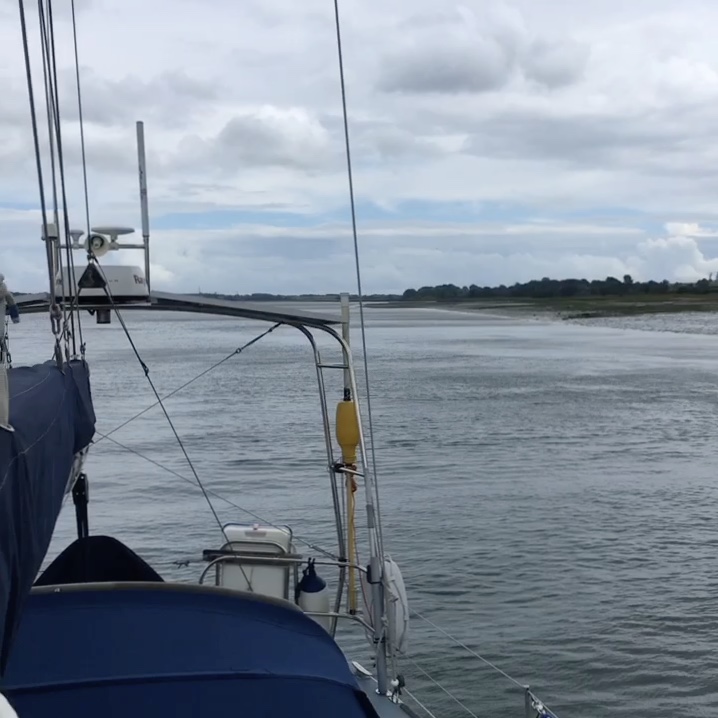 Tomorrow morning me and 'Talisker 1' will sail back to the River Ore.
We have had volatile weather for this cruise.  It has also been cold though this evening I have not felt the need to light the Webasto.
I can't remember changeable weather like this or experiencing so much rain.  The cabin was awash with water yesterday when I took my wet weather gear off.  I was dry underneath.
I'm feeling my age.  The troublesome shoulder is … aching … and the other shoulder is strained.  I have a tender lower back.
I'm 63 tomorrow.  I hope to be fit for a long voyage next year and possibly the year after.
19thJune
'Endeavor' and Candy Masters are back on their mooring in the Ore.  Me and James Robbie had a very amusing day, first helping Candy move her ship from the Deben and then helping our Orford SC Commodore, David Robinson fit a new Life Raft to his Moody.
With the wind still blowing hard from the south west last Friday me and 'Talisker 1' sailed back to Orford from our anchorage in Buttermans Bay.
Again we sailed under stay sail alone.  It's a powerful sail in a blow and I was also amazed how well it performed to windward.