10th September, 2013, Suffolk YH. R Orwell
Self and James Robinson had prepared 'Undina' for the arrival of a potential buyer from Boston, Pat Ilderton who was bringing with him Ross Gannon to do a survey of the boat.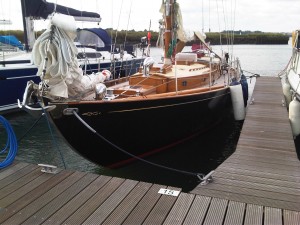 Scrubbed up and ready!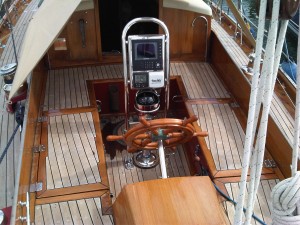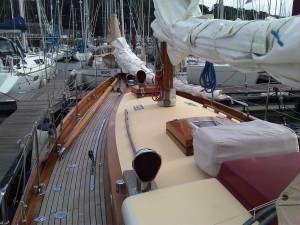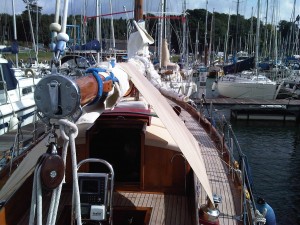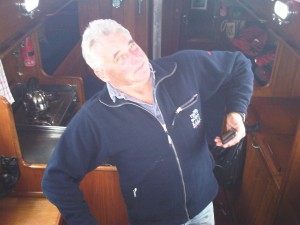 'Where are the Americans?'  The Commodore James R being upbeat!
We were a little in the dark but eventually gleaned that they had landed from Boston at 9AM!  Self and James decided it was not the best day to take jet lagged folk from across the pond sailing.
In the early afternoon three people walked down the pontoon.  One glance and I put my head down the companion way and told James we were going to have a great time with the Americans.
There was an extra person too in Ross's delightful wife Kirsten.
There were jokes right from the off and we were fairly teased for cutting the crusts off the smoked salmon sandwiches we had prepared for them.
We told them there would be less wind the following day, although there would still be plenty (NW5's), much less rain and that their test sail could wait until they had had a good nights sleep.  They wanted wind!!
We then discovered that many moons ago Ross had owned 'Undina' for nine years.  Ross Gannon is 50% of the very famous Vinyard Haven Shipwrights Gannon and Benjamin.  
Ross opted to start his survey and to say he was thorough was an understatement.
We soon realised Ross was a Master Shipwright.
Like all people who know what they are doing they just DO IT in a very quiet and unassuming way.  Lovely to see!
Just before exhaustion caught up with them properly Ross went up to the top of the mast.  Not before chiding me gently for not getting to the bilges under the engine though!
11th September ……………
and Undina was lifted out for Ross to continue his survey…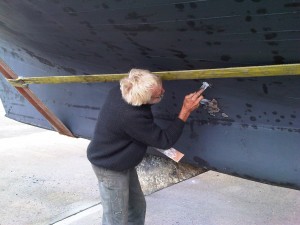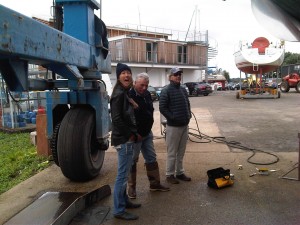 Kirsten, James and Pat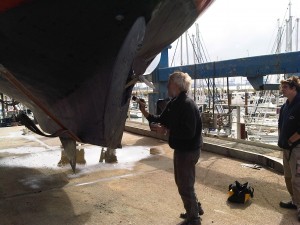 Suffolk YH boys watching the Master Shipwright.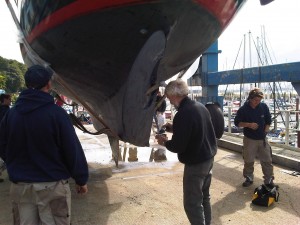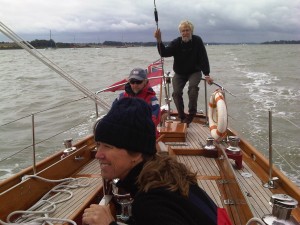 And then we went for a sail….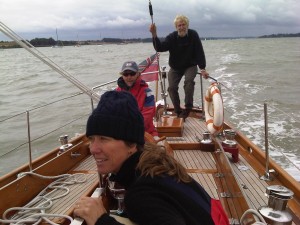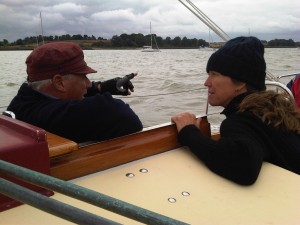 There are very few better sailors than James R.  Our Commodore entertaining Kirsten with stories of the East Coast.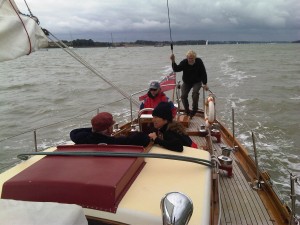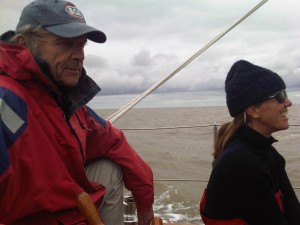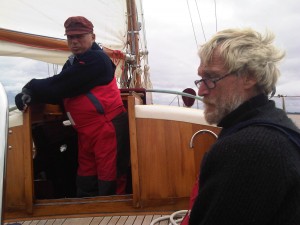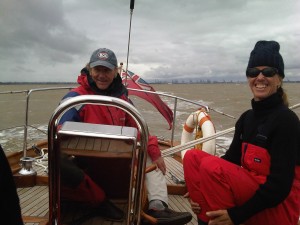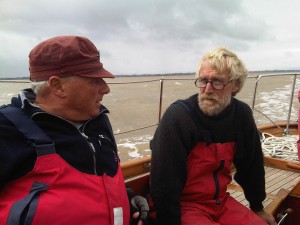 Two great sailors …. Robinson and Gannon..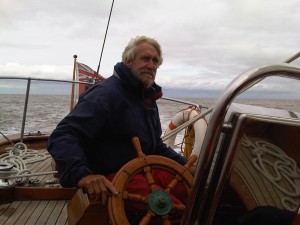 Ross at the helm of 'Undina' for the first time in many years!  A boat he owned for nearly a decade!
This was a great experience for US.  Three wonderful people.  Pat very kindly took us all to the Butley Orford Oysterage for supper…