12th July
'Talisker 1' returned to her home port of Orford on the 9th July.  It's as lovely to get home as it is to set off.
We sailed from Blyth, Northumberland, on the 6th July in fairly strong north westerly winds which gradually reduced and backed westerly as we approached Whitby.  Despite, heavy rain throughout the day, it was a very enjoyable sail as 'Talisker 1' stormed round Tees Bay, eating the seventy miles in great comfort and staying inshore, for slightly flatter water.
By the time we were passing Kettleness and the approaches to Whitby the sun was shining and the evening was beautiful.  I do love this stretch of coast from Kettleness to Flamborough Head.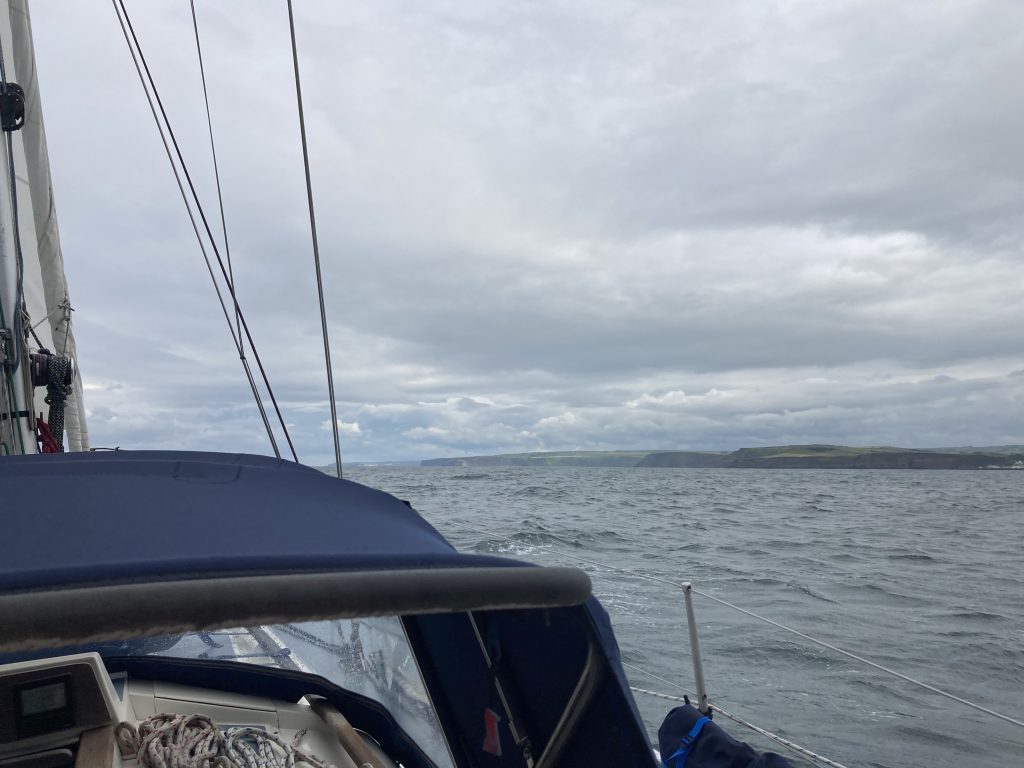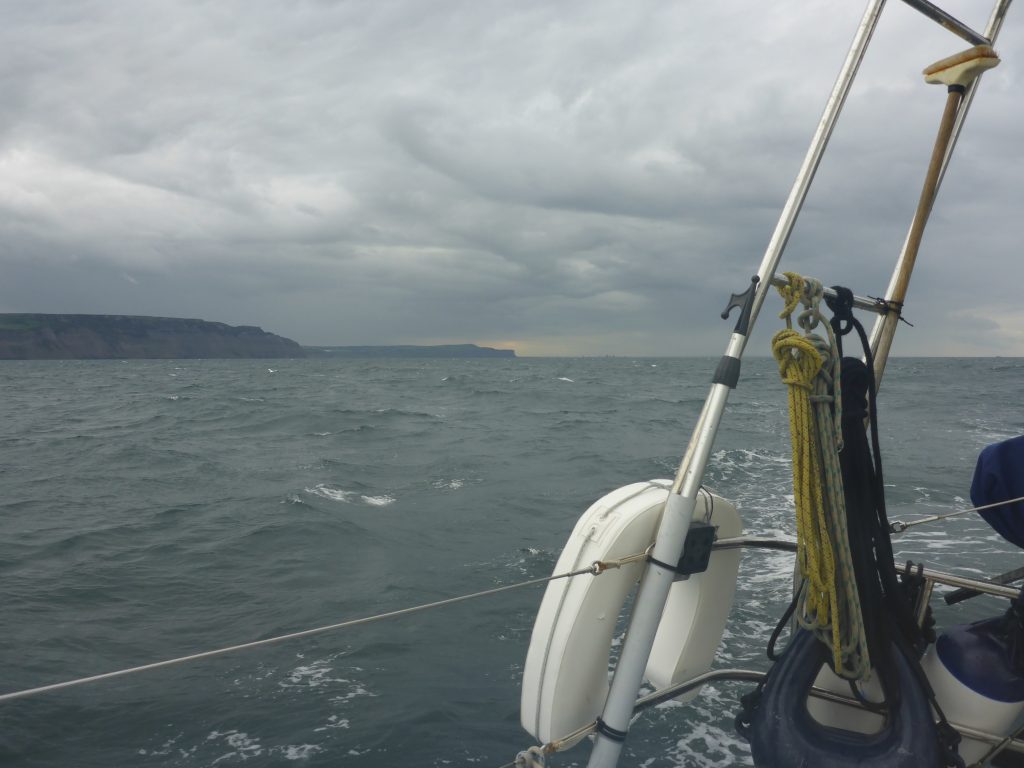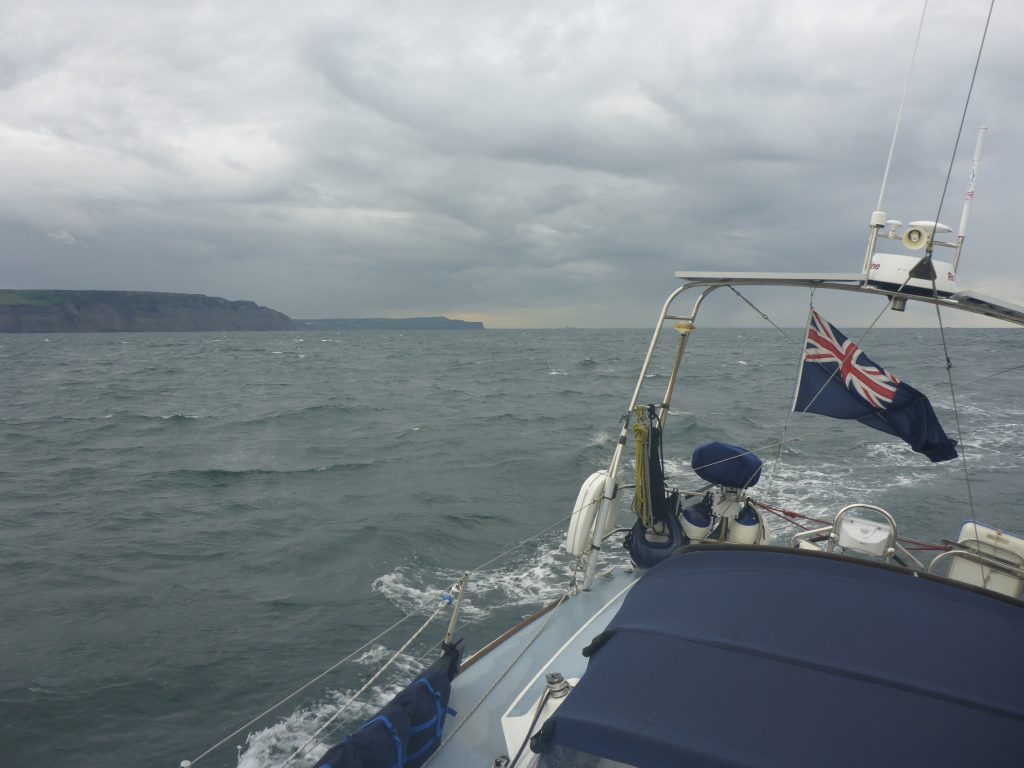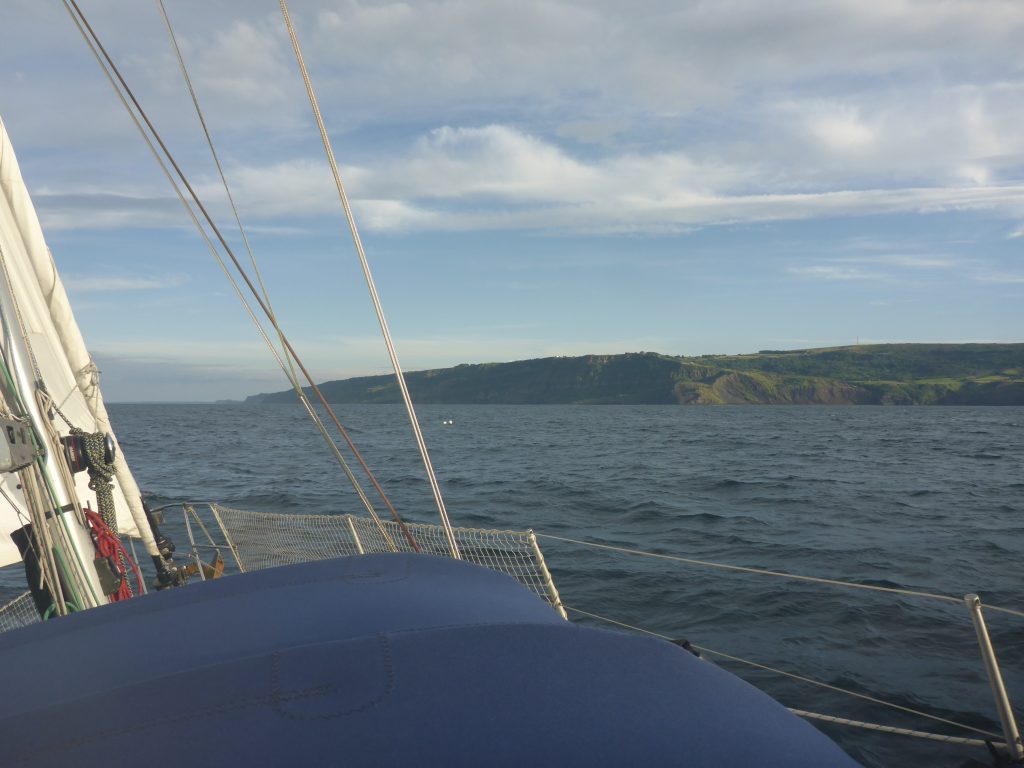 The next longer leg to Lowestoft was going to be harder and there was no decent weather window over the coming seven days.  The 7th and 8th looked like the best of a bad few days ahead.  The forecast was for south and south westerly winds, rain and some occasional poor visibility.  Perhaps I might be able to motor sail and sail some of it.  After the 8th there was a day of no wind and then south easterlies.  Either way, I felt a week in Yorkshire waiting for a weather window was not the best option.
We were approaching Scarborough with my mind made up to leave for Lowestoft early the following day.
My two choices, to get a few hours sleep, were either Scarborough Harbour or sail a further seven miles to Filey Brigg and anchor.  It was close to low water neaps and Scarborough told me there was plenty of water to get in to the harbour. They had a couple of pontoon berths available!  I chose the wrong option.  If I'd been able to get alongside immediately all would have been well but it was an hour before there was enough water to raft up to another SV in Scarborough Harbour, whilst aground a few metres from the pontoons.  It would have been longer before there was enough water to reach the pontoons the HM had allocated to us.  By the time we were finally rafted we would have been dropping anchor in Filey Brigg and further down the coast!
We were away from Scarborough early the following day for what proved to be a taxing twenty four hours and 145 miles.
Heavy rain squalls came and went, sometimes bringing strong winds from the south to south west or cyclonic ends.  At times visibility was very poor and the rain was as heavy as anything I've ever experienced at sea.  The boat got a thorough sluice.  I could have filled the fresh water tanks!!  There is so much going on off the Humber and the Wash.  Rigs, wind farms, fishing boats, guard vessels, pots and all the traffic in and out of the Humber.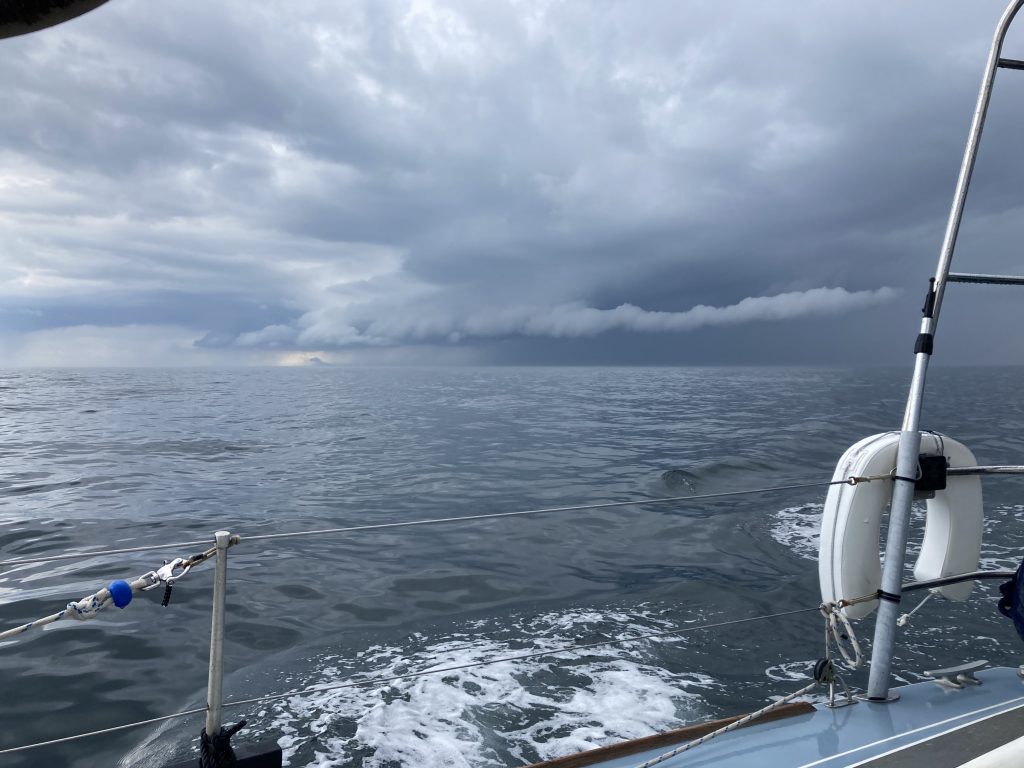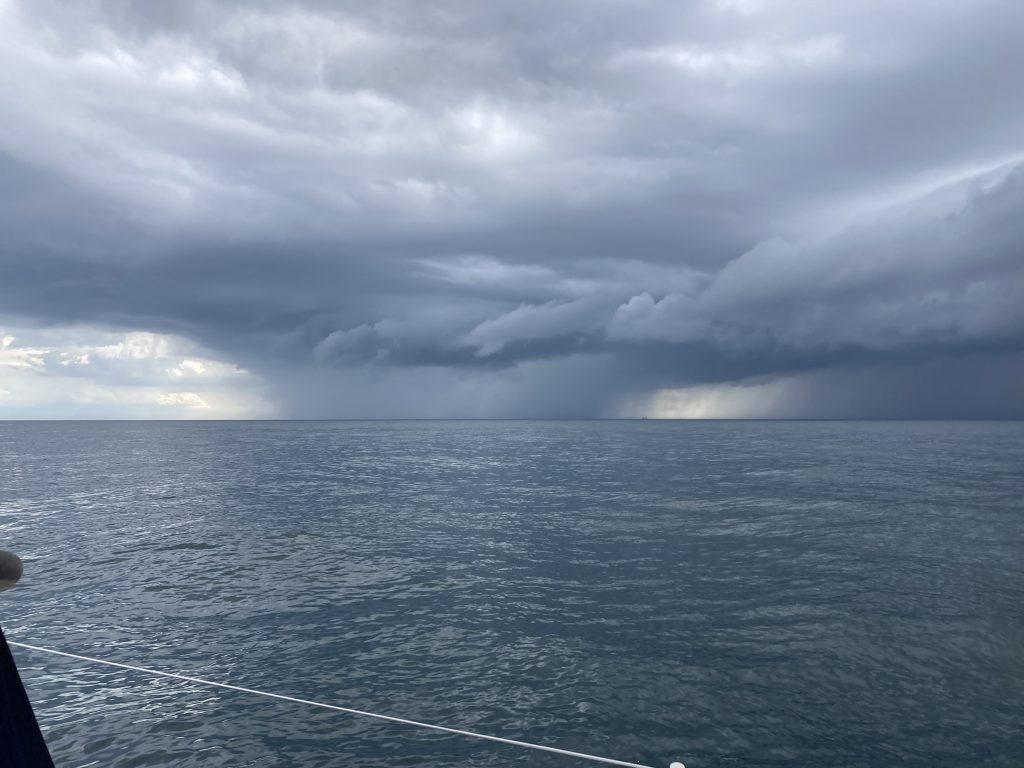 In the very early hours of the 8th and thirty five miles from Lowestoft the skies finally cleared, the stars shone bright and the wind became consistent for us to switch the engine off and sail.  There is not much light pollution off the north Norfolk coast.  I've experienced a wonderful sky before in these parts when inbound from Shetland in 2017.
Just before daylight, as the wind increased, I furled the genoa and set the stay sail.  I had timed our arrival in Yarmouth Roads for about the start of the flood.  The current runs very fast past Yarmouth.
We were on the wind from about five miles NNW of Cockle EC with Lowestoft 21 miles away.  By the time we were off Great Yarmouth harbour we were under double reefed main and stay sail with over 30 knots over the deck from just west of south.
The last 35 miles had been an enjoyable end to the cruise from Scarborough with a beat down Yarmouth Roads.
It was terrific to see my mate Bill Hughes aboard Will and Debbie's boat, part of the Woodbridge Cruising Club who were visiting the Royal Norfolk & Suffolk YC.  Bill and Will took my lines in the YC on arrival.  I had breakfast with them.  After a few hours sleep I joined the Woodbridge Cruising Club as a guest, for supper in the YC.  It was kind of them to invite me.
There were very light SSW winds the following day.  I wanted to arrive at the Orford Bar an hour before HW.  I was determined to sail most of the short 40 mile passage.
The wind increased off Aldeburgh and the final run down the spit to Orford Haven, into the river and on to our mooring, all under sail, made for a terrific end to what has been an eventful, but ultimately a safe, cruise to Scotland.
Doc was on his mooring.  It was great to debrief with the master and then see one of Orford SC's excellent young dinghy sailors clearly getting to grips with her first cruising boat.  The strides Hannah Kunert has made in the short time I have been away, with a little help from Doc and James Robinson, has been marvellous.  On the 10th she came aboard 'Talisker 1' to join me and Doc for loads more of Doc's rich wisdom.  Hannah knows how to sail.  She is now learning seamanship and how her Coribee behaves.  I'm so so impressed.
My conclusions from the five weeks away are that I'm certainly older.  Eighteen months is a long time not to have sailed very far.  From Scarborough, heading north, I felt more comfortable.
I also think that having a broken boat is no different to being storm bound.  It's just something to deal with.  I would have liked to have seen Fair Isle again this year and even gone on to Shetland but the engine problems put paid to that.
I might have been fortunate too.  The jet stream has been all over the place and the weather has been terrible.  James Robinson said that it was NOT the summer for the islands above the Scottish mainland.
I was also very lucky indeed to experience the hospitality, kindness and generosity of the people of Peterhead.  I've made some new friends.  Now how good is that?
I've also thought back to a podcast I took part in
https://morsealpha.com/ep-5-lessons-learned-sailing-single-handed/
with Ben and Teresa Carey from Morse Alpha Expeditions in which there was a misunderstanding of terminology that I used!
I said that if your surprised by something at sea you should not be out there.  Teresa countered by saying that the ocean was always full of surprises?  We were saying different things.  I'm very often overwhelmed by what I see, hear, smell and feel at sea.  My ship and me are a tiny spec of dust on the surface of an ocean that is totally unaware of our presence.
I meant by 'surprise', that you should not be at sea if you don't know what to do in any given situation.  This also includes the very important ability to be able to improvise.  Improvisation is everything.
There is no substitute for being taught properly and then putting in the coastal miles and I mean thousands of coastal miles in tidal waters.  As a single-hander you eventually find methods that work best for you.  And you never cease to learn.  If your happy on board ship for longer periods, then the ocean is a breeze after that training.
These days too many people are setting off without the knowledge and experience.  Some set off and appear to experience calamity after calamity.  I call that … "having adventures".
I don't like adventures!  I want a passage completed without incident.  This means I have taken care of myself and my ship.  More importantly, an incident free voyage means that it's been a safe cruise.  And nothing is more important than that.