1405 on the 22nd September Orford Haven heading for Belgium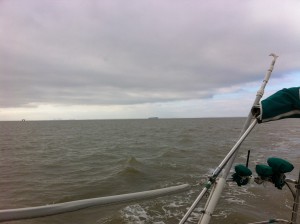 Looking back towards Harwich as we approach S Shipwash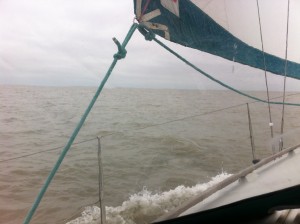 And not convinced about visibility.  Although it was forecast to improve.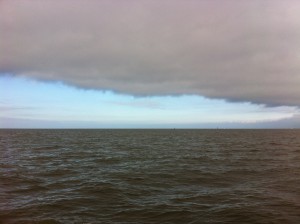 Not many pictures on this outward leg.
Sunk Inner 16.35
North Falls Tail 20.25
And very little wind with a breath from the S with enough to motor sail.
Entered N Hinder South TSS at 20.40 which was not without traffic.  Spoke to 'Arklow Rally' bound for Calais who passed astern of us and then later in the NE lane slowed to allow both 'Autosky' and 'Cliffhanger' to pass ahead of us.  We did not exit the lane until 2235 when with v little wind the genoa was furled with me feeling jaded.
Entered the much busier TSS which runs east to west above the Belgian and French coast just after midnight and we were across pretty quickly with a lot of traffic in both lanes and visibility good.
At 0305 23rd September entered Oostende harbour ……… tired and ermmmm.
Perhaps lack of wind, being tired and … not being or rather feeling quite with it were responsible.  My first trip across since 2011 and two years older and two years less fit.  I will have to do some training!  But what a joy to wake up in Belgium.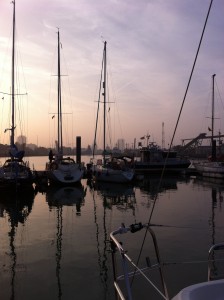 24th September and S ll looking back down the harbour from Royal YC Oostende.