8th May
Engine Levels & Checks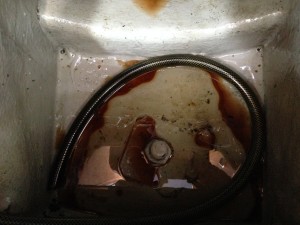 That's a cup full of diesel … & after 25 hours she needed 500 ml of oil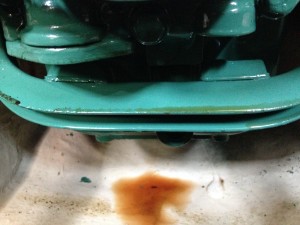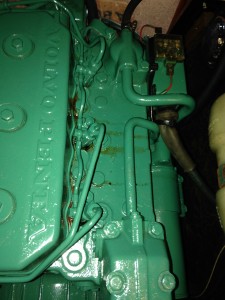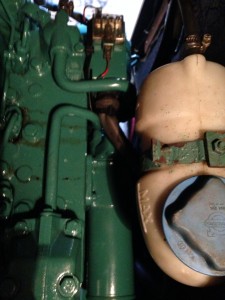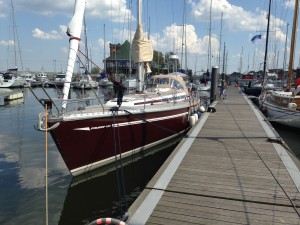 Jan & Els lovely new boat 'Hagar', a Faurby 424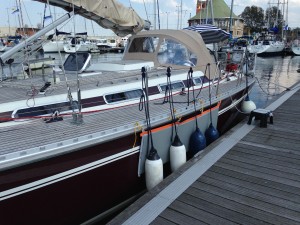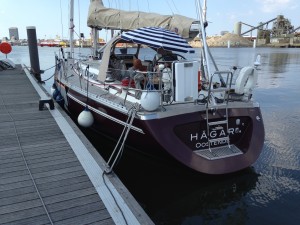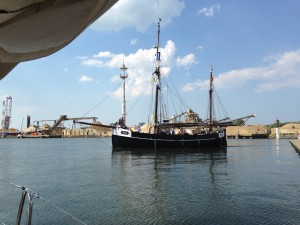 Not nearly as old as she looks
9th May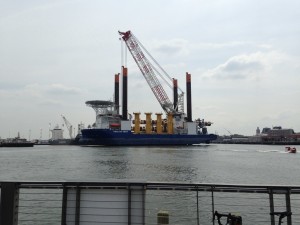 Oostende Harbour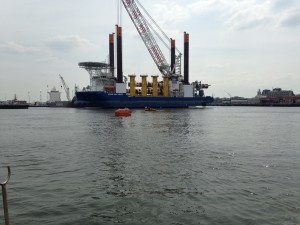 10th May
Heading home and not at all sure of myself…
Excuses NOT to go …
There is nearly always a foreboding about putting to sea.   Even on the best and brightest days the nerves jangle and I am anxious. It actually makes me feel slightly sick and breakfast is a little forced and the normally delicious tea is slightly sickly to the taste. So much easier to stay secured and snug in a berth or on a mooring.
Casting off means the boat now needs YOUR full attention despite YOU being its weakest link.
The pier heads at Oostende were opening up in front of us as we were outward bound in to a gloomy North Sea. Just emptiness ahead. Nothing! That, together with the poor visibility increased the nerves. So easy to turn back! So easy not to have set off. Trying to find every reason not to leave the day before and then whether to respond to the horrid alarm at 0600.
Getting the boat ready in a light drizzle. Gathering the wet shore power cable. Not wanting to be fully dressed and getting hot but not wanting to get wet either. Wet mooring lines. Unzipping the wet main sail cover. Removing and stowing a wet stay sail cover. And then despite trying not to be I am hot and perspiring. Down below and stripped of and just oilies on and then out again on deck preparing the main and main halyard. The engine coming to life.
Patrick the HM kindly coming down to see us off and then we are away.
Motoring through the harbour past all the commercial vessels. Pilot boats, wind farm vessels, fishing boats, dredgers and coasters. The professionals perhaps casting a passing glance at the amateur yachtsman stowing fenders and mooring lines. Don't show yourself up! Don't let the boat down as she certainly wont let YOU down. Do things properly! Do I have to go? Given all the weather info my reasoning and logic correctly tells me we go TODAY. I could go tomorrow but its not quite as fair. The day after that the northerlies set in so it would be too late.
We reach the pier heads and the emptiness ahead is only broken by the red and green channel buoys. Beyond that there is nothing. 85 nm to Harwich with enormous commercial traffic movements baring the way across this shallow sea.
There is a light following wind. We motor with just the genoa and I start to settle down. Visibility is very poor. Perhaps a mile and half. It could be worse but AIS is showing me targets. Hopefully the smaller vessels are going slow enough. I feel slightly queasy and think of a following sea and being sea sick. 'Let's stop that ! Pull yourself together'.
The Belgian coast disappears in to the gloom. The wind increases sufficiently and the genoa is furled and we swing round and hoist the main sail and then resume our course. The genoa is reset with a steady 4 off the starboard quarter. The engine is off and as that noise dies the magic starts as the boat comes to life, the sails fill and she starts to pull her weight and bend to her task. Familiar, unique sailing noises as I set her up. The autohelm is steering the boat beautifully. I'm better now. It's a partnership and she talks to me.   She is quite polite with her demands and gets indignant if ignored and then there is a sort of 'told you so' when I've done what she's wanted and balanced the sails.  All is good with HER now.
This is going to be a good day. A fast trip. The winds are going to increase a little with more easterly as the day progresses and might even have some north in them towards the late afternoon. Ok …. We are now in sea mode.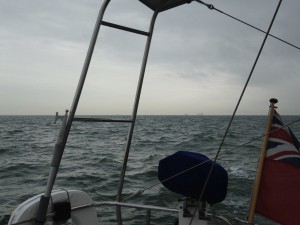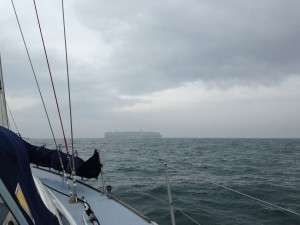 Yang Ming 'Witness'.  Her watch officer increased her speed and altered course to pass ahead of us.  Visibility 1.5NM but our Radar and AIS a great help in these conditions
And then there was the 'Durban Star' who agreed to pass astern of us …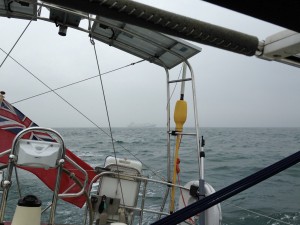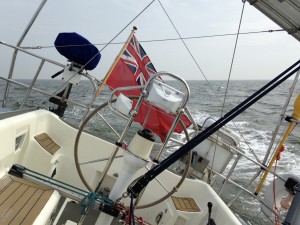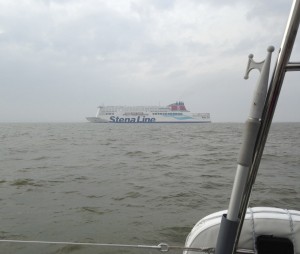 Harwich approaches and heading for Halfpenny Pier.  Under 12 hours again…
11th May
'Talisker 1', Halfpenny Pier, Harwich