Sunday 5th June 2016
We ended the today anchored above Aldeburgh having arrived in Orford at lunchtime. Preparing for the longer trip I had felt worried about leaving home for so long and had been frantically organising things at home not really concentrating on any forecasts since Tuesday when it said it would be going southerly by the day after tomorrow. You can never plan more than a short time now with weather being so changeable these days.
Today when I arrived at The Quay it was blowing a 6 from the north and Philip, Orford's Quay Warden and HM, took me and an enormous amount of gear out to 'Talisker 1' who was rocking about in a heavy chop on her mooring. That done it was fridge on. No way we were staying on the mooring in this. Doc's tender was on his mooring so texted the Doc to find out where he and 'Tuesday' were hiding. Doc texted back to say they were anchored above Aldeburgh past Cob Island.
The current situation is N Easterly's most of the week with a brief lull on Tuesday before they kick in …… again.
I motored up the river in to a cold strong N Easterly and Doc texted to say he had moved to anchor off Brick Dock because of a tad more E in the wind and that's where we dropped anchor this afternoon at the second attempt. I pumped up the inflatable and rowed over to the Master for two surprisingly (having sampled Doc's quite dreadful tea too many times) good cups of coffee, some mars bars and a relaxed chat.
We agreed that I was a little stuffed by the weather and the start would be delayed. I wish I had had a glance at the weather this week. Anyway getting in to boating mode and happy to be with 'Talisker'. There is a lot of stowing of gear to do and I am more than a little apprehensive about this shake down trip and whether it will be ok.
There is a possible lull in the weather to get up to Lowestoft on Tuesday. I have to get some charts and can do then all in one place at the chart specialist Charity and Taylor. They used to be in Woodbridge and moved to Lowestoft two or three years ago. They print any Admiralty Chart.
I was thinking of the trip in reverse if it was favourable. 'Doc' said Dan Helder as a possibility. We will see. Good to see Doc in more of a sailing mode again after such a very long time.
Good sunset tonight.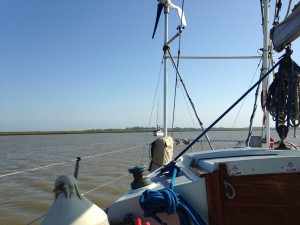 Monday 6th June
Had a good night anchored off Brick Dock but fretted about getting underway which one should not do. Doc said your only entitled to start worrying if stuck for fourteen days plus.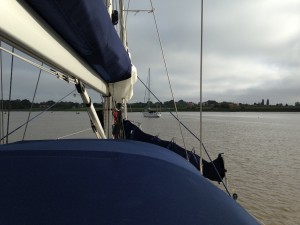 'Tuesday' anchored ahead…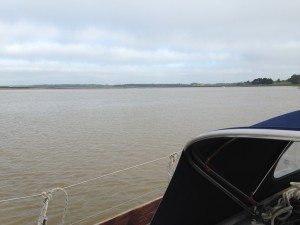 This morning I listened to the forecast and occasionally Thames Coastguard speak so quickly poor old people like me can't write it down quick enough or remember EXACTLY what was said. But what I did hear for tomorrow I did not like at all. With no internet access at all around Aldeburgh I telephoned Thames and a nice lady was amused I was not quick enough. She kindly dictated SLOWLY. Anyway the long and the short of it was fog patches becoming fog blankets. I quickly decided to catch the ebb up the coast to Lowestoft, which meant leaving immediately. But first it was a long journey south for two hours against the flood to get out of the river. When we finally got out of the river the ebb had just started and being right on springs we were going to get a hell of a lift up to Lowestoft. Setting a reef in the main and the stay sail for light work when tacking I switched the engine off just past NE Whiting and sailed all the way to Lowestoft. Wind over tide created some fairly choppy water but it was a good sail. Nothing stopped her and certainly on starboard we were making 8 + over the ground.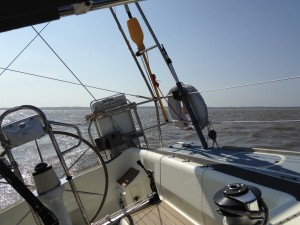 Beating away from Dunwich….
There were 4 other boats apart from us with the same idea. Two sailing and two motoring. The two sailing had full main and genoa but 'Talisker 1' is quick enough as it is and to put no strain at all on me and the ship must be a plus.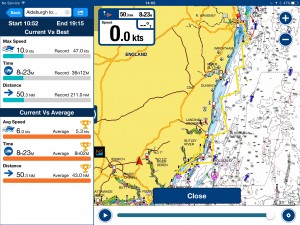 Track shows us going south from Aldeburgh before I was able to head north …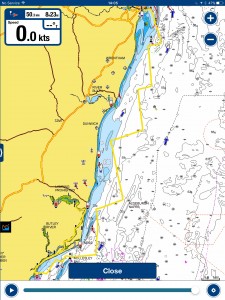 I am now in a Royal Norfolk & Suffolk on a pontoon berth. There are lots of Dutch and a few Belgian visitors here. A Dutch ship is looking forward to The Butt & Oyster at Pin Mill, which sadly is doing a very low standard of food these days. I hope they just want to drink and enjoy the old bar!
I hope to sleep well.
7th June 2016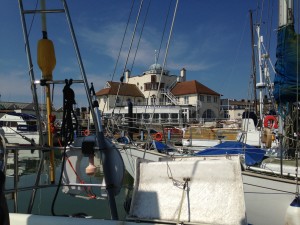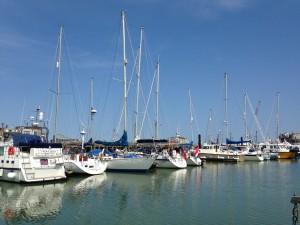 This evening 'Drunken Duck' from RYC Oostende arrived after sailing from Oostende this morning. I don't know them but said hello and left them to recover. The wind had a little too much north in it for their trip.
Today I went to see Steve at Charity & Taylor for my charts
www.ecdis-and-radar.com sales@charityandtaylor.com
They can print any Admiralty Chart if it is not in stock. All up to date so I am pretty sorted I hope.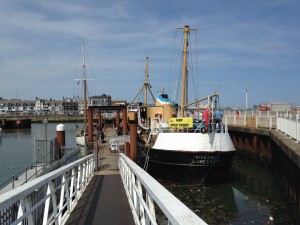 Lowestoft's history is fishing and here is a museum to mark the large fleet of trawlers that were here.  Manned by volunteers she is beautifully run.  Much like the 'Amandine' in Oostende to mark their fleets that used to fish in the hostile north Atlantic.
Gave the boat a thorough check over and will do so again tomorrow for the next quite long leg over the top of the Norfolk coast. Thursday is looking good.