On the 23rd March we motored up to Ipswich for a night with 'Sentijn' (John, Kara and baby Dean), 'Taipan' (Kris and David) and 'Red Roo' (Maree and Phil). We've had a fun winter with these American and Australian boats.
The blue water sailing community is a small family.  My chance encounter with 'Taipan' in Bergen in the summer meant I later met John and Kara.  Both Kris and David had spent time with Kara and John when they had crossed the Indian Ocean together.  John and Kara were then sailing 'Orca'.  'Taipan' spotted a boat being well sailed in Holland.  They had no idea it was John and Kara who they had not seen since South Africa!  They were reunited in Holland.  A few years ago Phil had sailed from Australia to Alaska.  John looked at some pictures and realised they had already met ….. in Alaska!
'Taipan' were in Belgium for a while in the winter before returning to Ipswich but we saw a lot of Kara, John and Dean. The transformation of 'Sentijn' over the winter is remarkable. They have worked so so hard on their ship.
I think I've written this before but if you like people and the world read John Pennington's book 'Orca'. Its about John and Kara sailing round the world together. It's available as a hard copy or on Kindle. I asked Tom Cunliffe to read it too. He's going to feature the book in Yachting World.
I think I've been a terrible nuisance to John over their book.
"It needs publicity! It needs to be read! You should write more! When's your next book?"
I sincerely hope there is another book. I also hope that he writes for sailing publications and gets handsomely paid. Mind you! They are so clever they could probably write about just about anything.
John and David motored back to Suffolk Yacht Harbour with me on the 24th March. Bitterly cold!
On the 4th April my step daughter Alicia, husband Logan with my god son Shiloh and little brother Boe visited Suffolk. A visit to 'Talisker 1' and then 'Sentijn' and then a walk round the docks at Ipswich.
My new Lofrans Cayman anchor winch was well tested on the 8th April. The brand new windlass had been causing problems due to a loose brush finally now fixed.  We had anchored for the night in the Stour and managed to pick up a large disused hawser cable.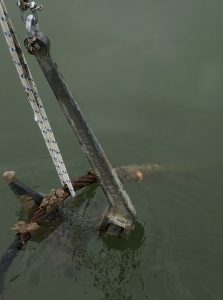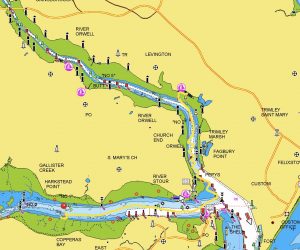 Nothing was marked on the chart. Anyway! It certainly has enough power for 'Talisker 1' and me. We then sailed back to our home port of Orford.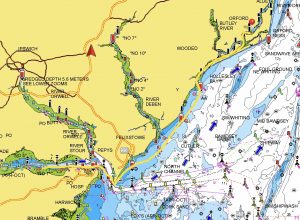 The red can, Oxley, at the Orford Haven entrance has been mysteriously placed in very shallow water. The entrance really now needs 3 buoys. The deep water channel runs NE for about .25 of a nautical mile from approximately two thirds of the way between Weir and Oxley outward bound. There is plenty of water there before you head due east outward bound. DO NOT USE THIS FOR NAVIGATION.
Without local knowledge I suggest entering and exiting the river using the navigation marks half an hour before HW Orford Haven. At YOUR discretion AND weather permitting.
A visit from a classic yacht, once owned by Arthur Ransome, was a good moment for Dean to have a photo opportunity.
Dean's first voyage, seven months old, had been the same voyage across the S North Sea as that undertaken in Ransome's 'We Didn't Mean to go to Sea". A nice moment. The night before, 10th April, Sally me and James Robi had a convivial supper with our foreign yacht crews in Ipswich.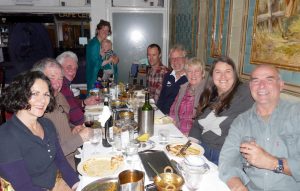 'Taipan' are gasping to leave for Scotland.
It was lovely that Doc got to see 'Sentijn' on the 13th April all fixed up.
I think Doc was helpful with rigging advice because he was then nabbed to check 'Taipan' and 'Red Roo'! Happy Days! Wonderful Doc had great fun.
I even got to have a ride on 'Sentijn' away from the dock as she was rafted to 'Taipan' who needed fuel.