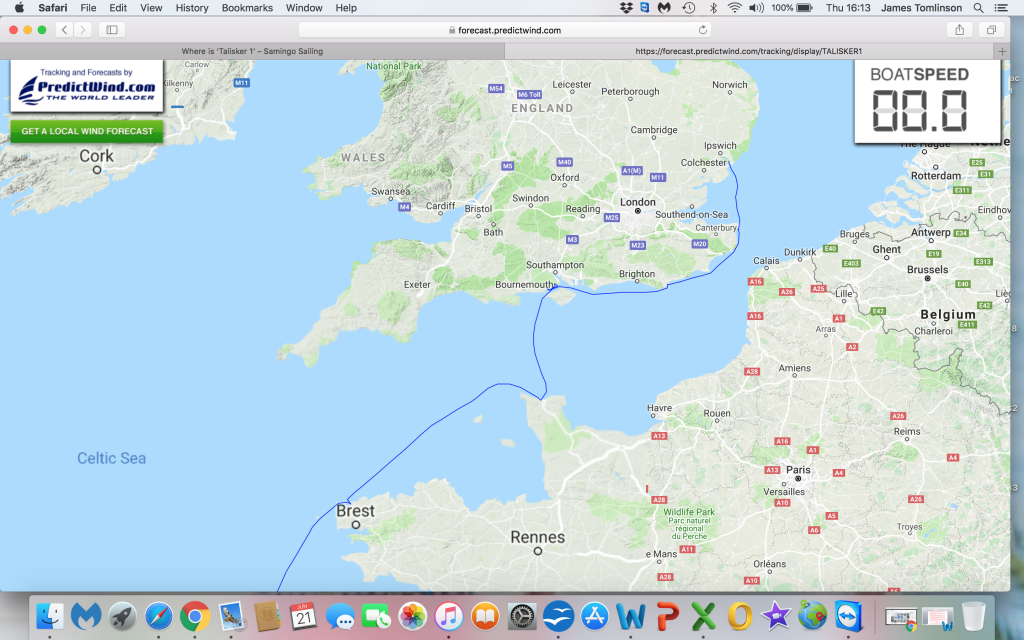 1845 BST 6th June
We are moored at Bucklers Hard in the very beautiful River Beaulieu, having spent last night in Lymington Yacht Haven. We gently motored back east again this afternoon.
We had two wonderful, but fairly long, coastal, sailing days to get to the Solent from Ramsgate with terrific North Easterly winds and hardly a boat on the water. We were going to go to Bucklers Hard but with plans marginally clearer I knew that we needed a Navionics chart to cover Biscay, Spain and Portugal. The chart also covers the Atlantic Islands too.
Mooring is very expensive in these parts though I've never seen such washing facilities anywhere to match Lymington Yacht Haven. I nearly moved in to one of the vast shower cubicles with a camp bed.
So a sort of day off and there was good help with the chart update from Ben at Greenham Regis, Lymington. I also met a chap who worked at Westerly when 'Talisker 1' was built. He told me they were great days and he raced Typhoons. Nice.
We stopped in Eastbourne for one night. We were next to a very good Danish boat with a young family and an even nicer US blue water SV called 'Paradise Divide'. Both boats were very friendly. 'Paradise Divide' has sailed from Seattle! I wonder if they came acrosss Candy and David. Certainly they met Gus, another American wintering in St Kats when David and Candy were there. Small world this cruising life.
I think we leave for France tomorrow. Cherbourg is the plan! So nervously worrying about the crossing as usual.
0930 BST 9th June
I am typing while actually on passage bound to L'Aberwrac'h from Cherbourg. We've been underway since 1830 last night and we have ENE 5's … a little more than predicted but progress is good. The main is on a preventer and the genoa is poled out. We still have about 50 miles to go.
We left the Beaulieu River at 0415 on Thursday, or rather Bucklers Hard bound for Cherbourg and made out way out in to the Solent and down to the Needles. Once past the Needles at 0630 the wind was light but then steadily built so we sailed much of the way in good north easterlies. There was more wind than predicted. Visibility was not that great. It was good to be in France.
There are lots of English in Cherbourg. A Vancouver rally of just three to four boats were very friendly. One couple took my lines as I came alongside them. Instinct tells you if they won't cock up your perfectly good plans. No help was needed but it was nice. They were based in Titchmarsh when they first bought their boat. Being blown on when we left I asked them just to guide the stem clear of the pontoon as we left. Good folk.
Philip, HM at Orford, had made me feel very guilty about the teak on 'Talisker 1' so yesterday it got a good treatment and now looks quite smart.
The north easterlies are not lasting much longer so I was not going to miss out so departed last night bound for L'Aber Wrac'h. I wanted to clear all the Channel Islands to the north and I felt once clear of the Casquets at 2330 I could pinch some sleep and setting timers to wake, a guard on AIS and radar I managed about five hours in all. I don't seem to have a problem with getting up often, 15 minutes in this case, and sleeping again.
There have been plenty of fishing boats though.
I'm very pleased with the weather app on Iridium Go PredictWind. That works well.  But there is much more to learn.
I forgot to mention the lobster pot marks in the approaches to Eastbourne. Hardly visible! And some clown had dropped one between the safe water mark and the first starboard hand fairway buoy. What a spot to get a prop wrap?
Dawn this morning was lovely! And we missed the predicted thunder storms. Warnings were being regularly transmitted on Joburg Radio (Cherbourg). I could see the lightning but so far away and there was no sound of thunder.
1030 BST 10th June
We are in L'Aberwrac'h. The actual town is called Landeda.
Arriving last night in the approaches at 1830 BST the visibility closed in as we neared the rocky entrance. My thoughts went back to Graham Bush deciding against L'Aberwrac'h when we were approaching the French coast from Plymouth a few years ago in north easterly 7's. Not that bad last night but as an east coast sailor we can get pretty blasé about depths and hitting things. Catastrophic elsewhere.
Anyway we are here. And almost the moment we were moored, down came the rain. This morning visibility is pretty awful and it's cold to boot. I've even got the heater on.
2200 BST 10th June
 I've just had supper on 'Isabel' with Graham and Margaret Morfey, both of whom are RCC members. A really lovely older couple who are still sailing. Recently they sold their Bowman 45 which they had built from new in 1995. They circumnavigated in this ship. They now have a small sensible Dartsailer 30 built in Holland.
Their wealth of experience and stories are magic. I could not have enjoyed it more. More worrying is they go home tomorrow, as they don't like the look of the weather.