Winter over and we are heading back to Orford 1st April 2014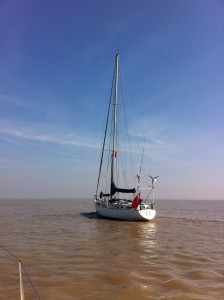 I was coming back from The Orwell and met up the Doc who had just left The Deben after her hibernation at Woodbridge Tidemill Marina.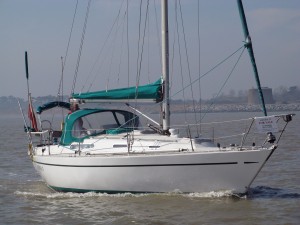 Samingo ll off Bawdsey.  In convoy with 'Tuesday'.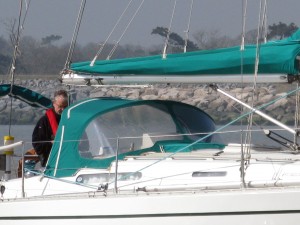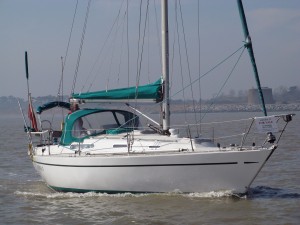 No WIND …..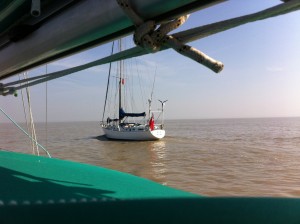 By way of a boat hook Doc passed me this note and drawing.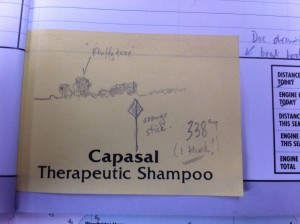 His text to me of the previous night based on a visit to Shingle Street at chart datum was
'I came up with two routes into the river. one straight but shallower on 338True to the stick (beacon on the beach), the other a long smooth curve, starting on 265 to the bungalow, then joining the first route.  See what you think.  I've got to get out of the Deben first though, quite narrow.'
So we could compare I took the second option.  See chart plotter picture below.  Doc & 'Tuesday' came straight in on 338.  Trinity's rib was doing their own survey when we came in.  Doc spoke to them and to buoy the deeper route (the route I took) would require more than two buoys!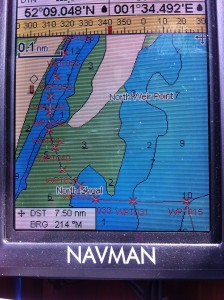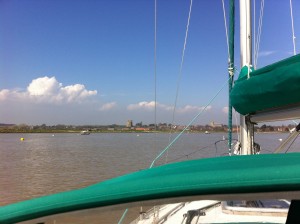 Coming in to the moorings at Orford.  The church and castle are quite something.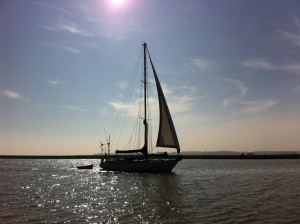 I collected Doc from 'Tuesday' to pick up our tenders before both boats headed up to anchor above Aldeburgh for the night.  A light Easterly …..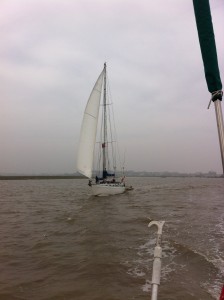 2nd April.  More wind the following day and we are heading back from Aldeburgh to Orford…