I had moved my Simrad A150 AIS from Samingo ll to Talisker l.
The reception and range had been very very good on Samingo ll.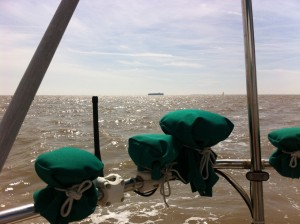 The small black antenna was mounted low down starboard side on Samingo ll's pushpit. See above.
I installed the same antenna a little higher on Talisker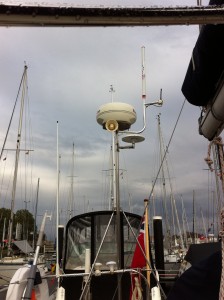 You see it above the radar to the right AND to the right of the Echomax also moved from Samingo ll.
The reception was terrible with very little range.  Less than 4 miles.  On Samingo ll I was used to 20 miles at least.
Pieter felt the antenna was inadequate anyway and positioned too near the Echomax.  It HAD worked before.
Just to the right of the horse shoe is the new airiel for the AIS.  This works perfectly!
Any ideas why it worked before?  On a post card please.