10th September
I'm a wimp! But I need to go back a week or so to explain why.
Tonight I'm on board having had a run in the Pearly Miss this afternoon. This evening the tender to 'Talisker 1' is sixty years old! 'Talisker 1' turns thirty next year. It's a beautiful September evening. There is a chill in the air and perhaps I might run the Webasto heater later this evening.
But I need to go back to the wimp thing! There was a brief window to go sailing for a few days from the 29th August and I went on board with a fairly gloomy weather forecast. Doc was aboard 'Tuesday' and came over for a chat. We actually sat in the cockpit but at a safe distance of course!
I'd planned to leave the river the following morning. But the third of three depressions in quick succession was on its way through. Winds were going to blow 30 to 40 knots but off the land. It was certainly a doable sail plan with a run down the coast, staying well inshore, in the flatter water. My friend Robert was planning a rare visit to Suffolk the day after and I rashly told him we could not meet up as I was putting to sea.
I woke to an early alarm. It was blowing and raining very hard. 'Talisker 1' was straining on her mooring line like an agitated animal. Why would I want to go sailing in this? It's not as if I had not sailed many times in these conditions! I looked outside and put the kettle on. The thought of being bone dry, warm, and at the same time, listen to the weather and the rain hitting the deck above my head was lovely. I returned to my state room to read my book, drink tea and even had another hours sleep. The security of being securely fastened to the river bed while all hell let loose was the 'sound and motion but without the anxiety'.
When I finally stirred just after 1000 I sent Doc and 'Tuesday' a text:-
"I'm a complete wimp! Looked outside at dawn and went back to bed"
Text from 'Tuesday' in reply:-
"(Morning! Just got up).
Very wise move in my opinion. This morning's tide out was perfectly possible but if anything happened the RNLI would say what the hell were you doing it for.
 The crane barge/ship is still sheltering under the Ness, which suggests you've done the right thing.
 Well done.
 One way I used to decide these things was 'is it feasible if it is wartime?' (today's answer is "yes").
 'But its not wartime, so is it defensible?' (today's answer is "no").
 QED .. don't go on this tide.
 It works for me anyway".
 It was too late to go even if I wanted to! And I was definitely not going to experience anything I had not experienced a great many times before. The following day looked quiet and the sun was shining. I texted my friend. Did he still fancy a days boating in the river after all? Yes came the reply! I was delighted with my decision making. Or am I getting older and very much less brave?
The 31st was a bank holiday Monday. The Cox family and James Robbie were heading down to the spit for a pic nic.
I collected my friend Robert off the sailing club pontoon. Shortly afterwards we were heading down river in the company of 'Tuesday'. James Robbie and Fiona deposited young Freddy aboard 'Talisker 1' from James's rib. We had a helmsman for our voyage to Dove Point where we anchored close to 'Tuesday' who had come to join us.
With Robert safely put ashore at the end of the day another sail was planned for the following day. All the Cox dinghies were going to take the flood up river to Brick Dock. They would have a shepherd in James Robbie and his rib. Grandmother Sheila came too.
26 tacks later and me and 'Talisker 1' rounded the bend of the river at Slaughden Quay, furled the stay sail and sailed under main only to anchor in the hole just below Brick Dock before lowering the main sail.
Having been ashore in the tender, Annabelle Cox and Sheila joined me and 'Talisker 1' for the sail back to the mooring, this time, down wind from Slaughden under genoa only.
All the Cox children came for a swim off the stern of 'Talisker 1'. Their summer holiday was coming to an end. There is nothing better than seeing the young outside!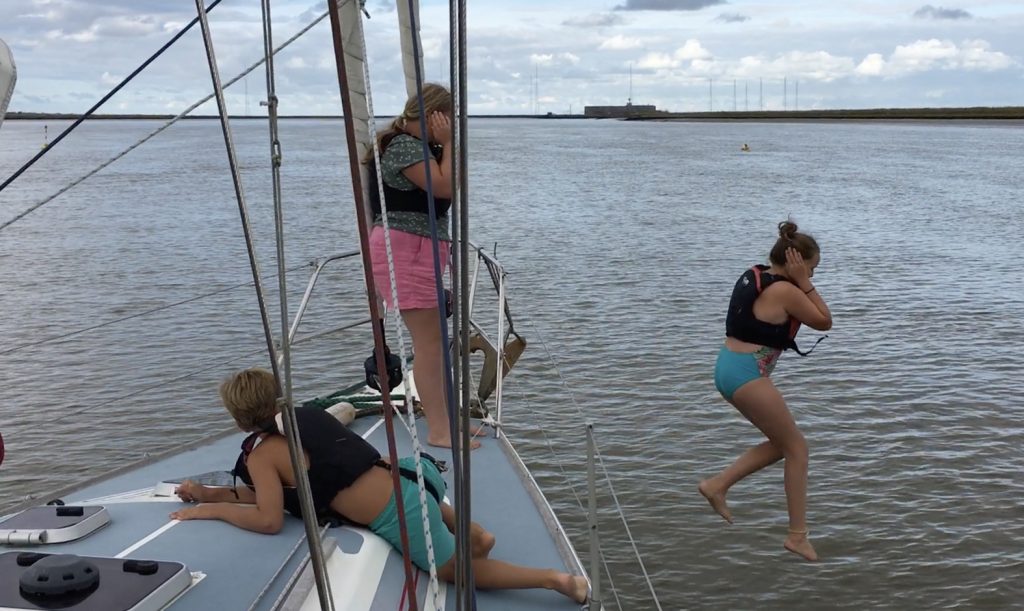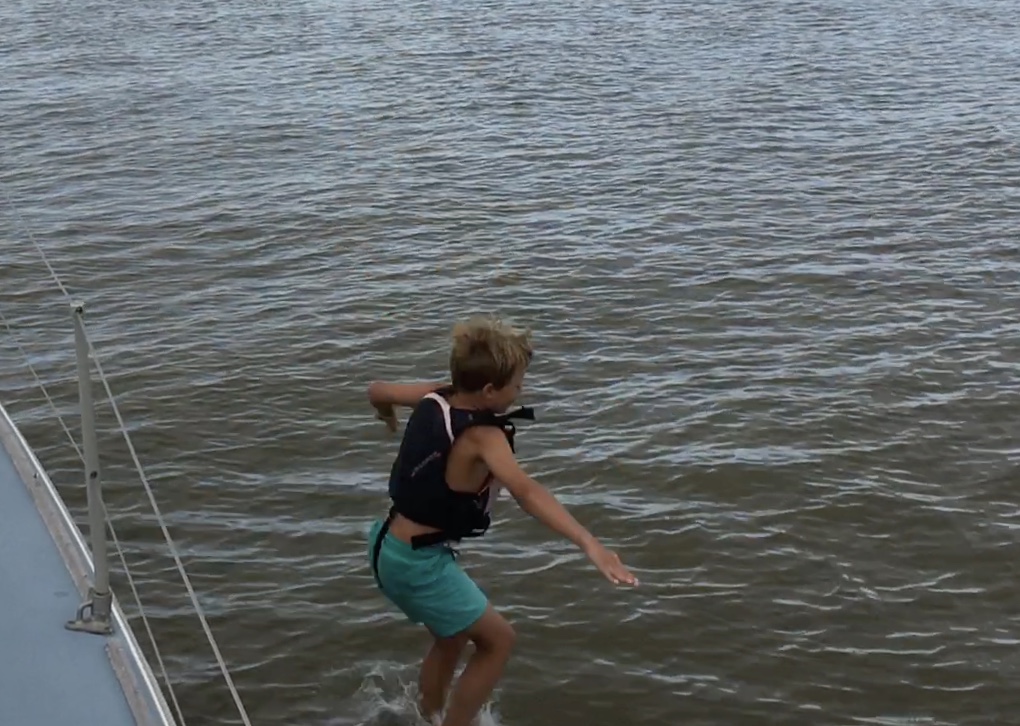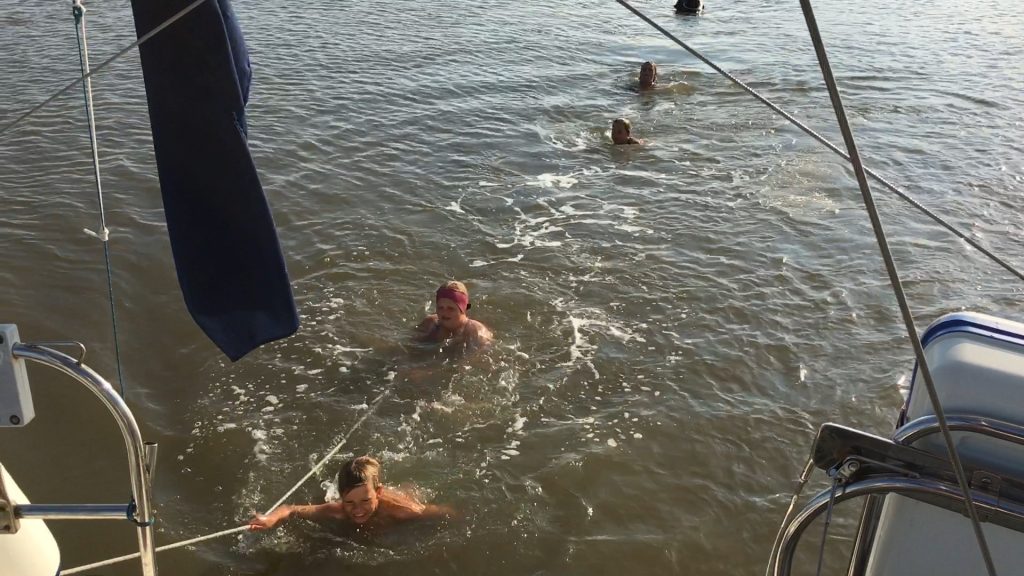 As much as I might have enjoyed leaving the river these past few days were a wonderful time afloat. Magical.