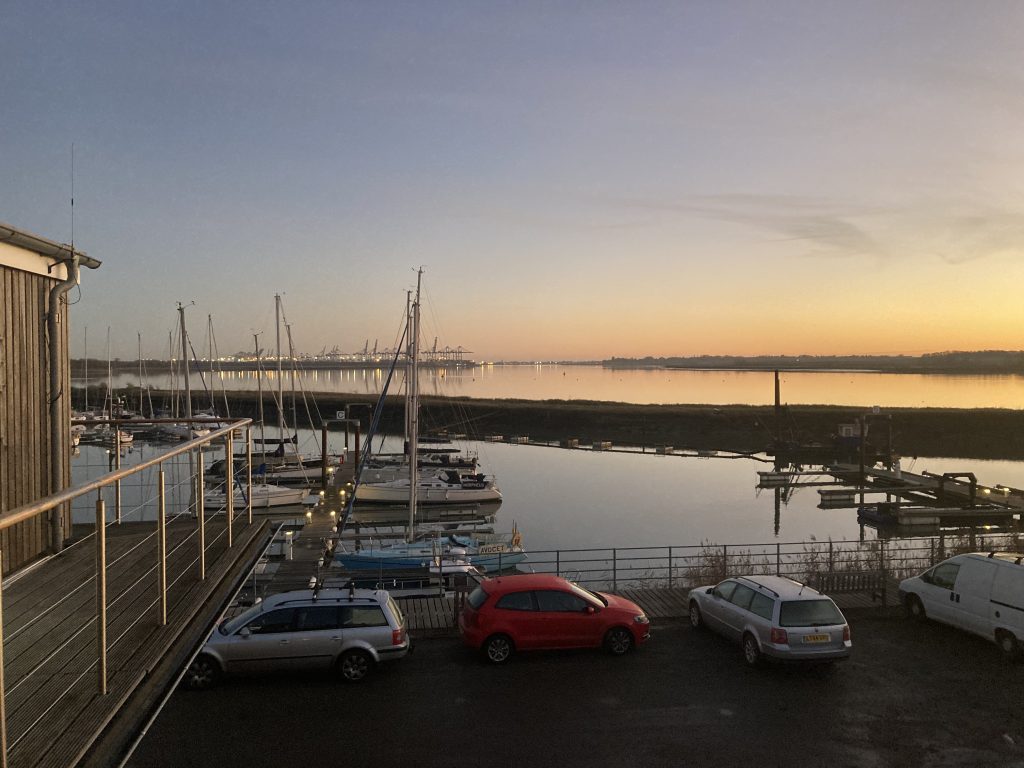 8th April
My diary starts late this year.
It's been very difficult remaining positive.  I'm not a very good invalid.
A friend compared her new hip and recovery to my heart condition!  I was lost for words.  If only it was just that.  The main engine of my body is not very well.  With little history of heart disease in the family I'm surprised.  I still think I might be one of the tiny percentage of people who have had a reaction to the Covid vaccine.  I was given a Pfizer booster in November and eleven days later I suffered a Total Heart Block.  On the 2nd December I was given a 3 wire Pace Maker.  A recent Ultrasound shows the same abnormalities that were found in November.  I am awaiting an MRI.  In case anybody thinks I am anti vaccine I am not.  Cardiology are no more busy than before Covid.  However, I will take medical advice regarding a further booster.  I would not have Pfizer again.
I thought I was doing quite well until I did the first coat of antifoul on my boat on the 30th March.  That was exhausting and a couple of days later I was breathless again just walking a hundred metres.  I was back in A&E on Saturday night to be checked.  Nothing alarming was found on the ECG, bloods etc.
I feel I've taken one step forward and two back.  I hope I will be able to do things like anti fouling my boat again.  It was a job that I trounced last year!
But it hasn't all been bad.  And a lot of folk are much much much worse off than me.
I was unable to decommission 'Talisker 1' after my heart block so she was in the water at Suffolk Yacht Harbour until the 22nd March when she was immaculately hauled out of the water by Oliver and Ryan.
I was also given the chance to find out if I could handle the boat.  My very good chums James Robinson and Bill Hughes have been keeping an eye on me, lifting my spirits and lecturing me on being a good patient.  They felt I needed to get out on the water under their watchful eye.
On the 16th March we sailed out to the Gunfleet Sands and back.
I was pleased that I could manage the boat without difficulty, with Bill and James on board.  I'm just going to have to restrict myself on how long I sail.  I doubt there will be any long passages too soon.  I get tired very quickly.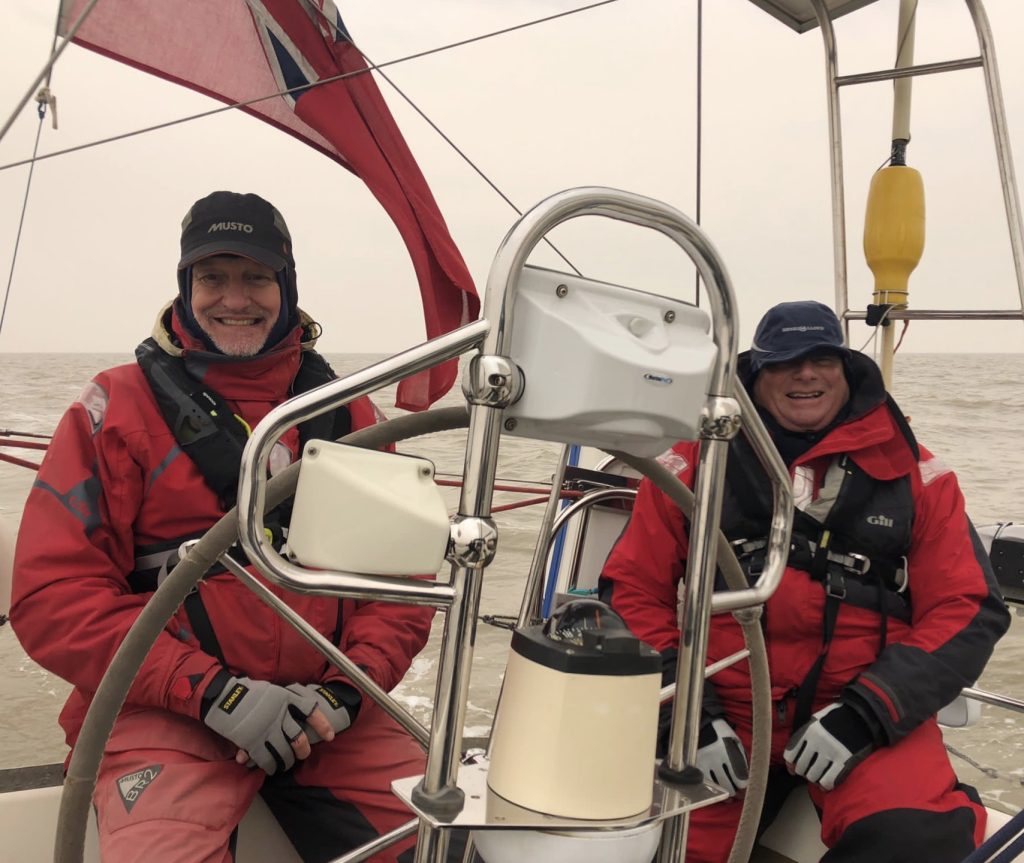 10th April
Yesterday Bill came and put the second coat of soft antifoul on 'Talisker 1'.  Bill, like James R, has been so so generous with his time and help.
We are nearly ready to launch.  I've slowly worked my way through all the other jobs below the waterline.  I just have the boot top to complete today and we are done.  Marvellous Andy Bennett polished the topsides.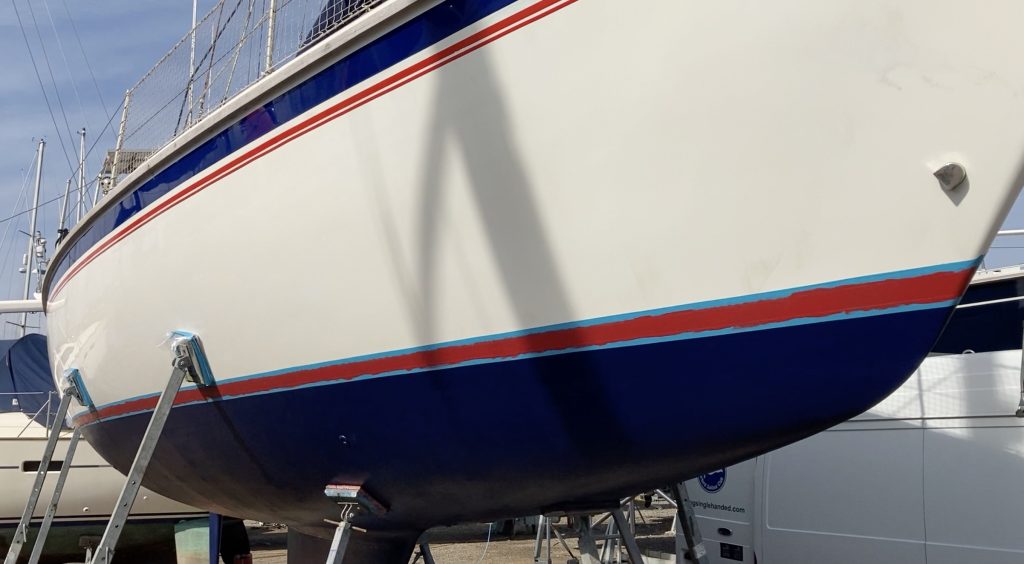 Candy and 'Endeavor' in the company of James Robinson, Sarah Bell and Helen Adams left the Orwell on Friday bound for Cornwall.  Candy is hoping to sail back to the US.  James will see them safely to Cornwall before jumping ship and heading home, leaving the women to wait for a weather window for the Atlantic.  It's getting awfully late in the year.
16th April
I was due to sail back to the home port this morning but my old Mum was under the weather and I've postponed the sail.
'Endeavor' has returned to Suffolk with some fairly major problems to resolve.  Her voyage postponed indefinitely.
On the 13th April 'Talisker 1' was immaculately relaunched at Suffolk Yacht Harbour by James, Ryan and Jack.
My boat is so beautifully looked after by the Suffolk Yacht Harbour Team.  Big James was also wonderfully helpful with adjusting the cradle so I could work below the waterline while she was laid up.
Evolution Rigging popped up the mast to refit my new, beautifully manufactured (by Tim at Mr Stainless) Pig Stick.
I've needed some extra help and everyone has been brilliant.
22nd April
On the 18th April 'Talisker 1' left her winter home at Suffolk Yacht Harbour and sailed to Orford.
It was a lovely few hours on the water made special by having Sarah Bell as my crew and minder and also to enter the river with Doc and 'Tuesday of Ore'.
It is not the first time that 'Tuesday' and 'Talisker 1' have returned to the river together at the start of the year.
Doc came aboard for tea.
So lovely to be back home in Orford.